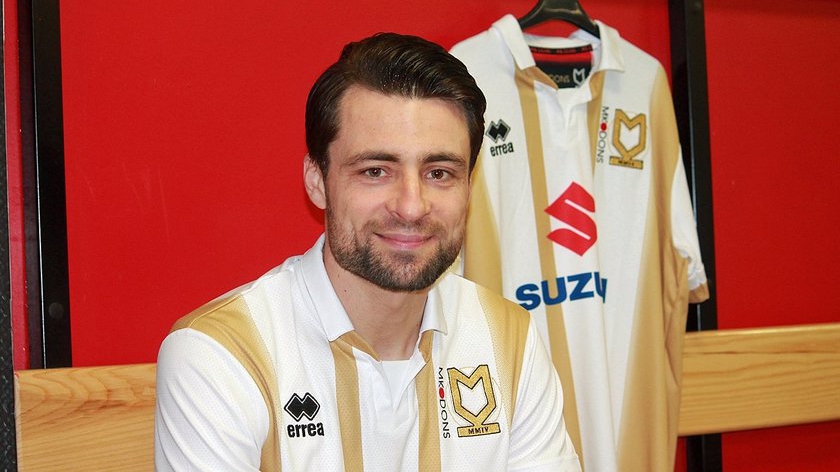 Martin when he originally joined the club as a player | Image Credit: Milton Keynes Dons Football Club
It's been around ten months since Russell Martin hung up his boots and stepped into management with Milton Keynes Dons.
Speaking on MKFM's Fans Forum, Martin was asked about the past few months and how it has been since transitioning from a player, who has played at every level of the game and represented Scotland on the international stage, to his first job in management.
Speaking on the past ten months, Martin said: "It's just been so full-on, I've loved it and as I've said a lot of times since I've come to the club I've absolutely loved it and felt that I belong there and I'm really a part of it."
"They've really taken me in, so it's been ten months of a lot of learning, a lot of challenge which I've really enjoyed and I'm hoping that can continue at this club for a long time."
"I'm in a position now where I'm extremely grateful to be the manager of the club and I'm just going to do everything I can, as I did as a player, to try and make us better and improve myself and the squad and hopefully we can continue on an upward curve and journey together."
The ongoing Coronavirus pandemic has seen football around the world halted for a number of months and Martin has used this time to reflect on his first season on the sidelines, seeking ways to improve himself moving forward for the betterment of his team.
In explaining this, Martin said: "I think having this break from the guys and then coming back with a full pre-season, that's sort of the final nail in the coffin on my playing career."
"I might join in with a bit of the running with the lads but apart from that, I think that will be it."
"I'm really comfortable with it, I feel like the transition, as I said before, the players and the staff made it much easier than it could have been for me and I felt they really helped me transition from player to manager and I think everyone's sort of come to terms with that now."
"I have, definitely, and it's surprised me how quickly I got over playing really. I think I'm in the job that I've been preparing a long time for. I didn't think the opportunity would come this early but it has and I've tried to embrace it and I've really enjoyed it."
He added: "I've not sat back and looked back on my playing career thinking I'm missing that. There might come a time when I do but this time, for me, has just been about reflecting purely as a manager rather than a player."
"Trying to learn from different people, speaking to as many different people as I can. Watching videos, watching players and looking at our process, speaking a lot to the staff and trying to refine what we do, so I'm looking forward to hopefully putting a lot of that into practice when we get back."
Players often imagine how life on the other side of the game would be when they eventually hang up their boots. This is something Martin has had an opportunity to think about during the extended break, looking back on his past perceptions and comparing them to how day-to-day life as a football manager truly is.
He explained: "I always sat on these courses and had various conversations with people who had gone into coaching and management from playing and they always said about the balance, it's 24/7."
"I always said you can do it, you can maintain the balance between your family and the job but it is, you think about it 24/7."
"I think it's just been the sheer amount of decisions you have to make on a daily basis, you have to be really conscious of every decision and the impact it will have."
"Have I done what I thought I would do in management? Yes, I have tried to as much as possible with stuff I really believe in and have worked on over a number of years, so I have implemented a lot of that."
He added: "There's still a lot of stuff I want to get to and want to us further with but, has it been different? Yeah, I think it has. It's been the sheer volume of decisions and the impact that even the smallest one can have on someone or on the process that we're embarking on."
"It's been different, but in a positive way and I'm really enjoying it and I think that I will come back a better manager for this period of time off and I don't think many managers get this time to reflect and learn, only probably when they lose a job."
"Obviously it's been a really tough and challenging time and difficult for a lot of people, but I've tried to turn it on its head and use it positively for me and my career in terms of refining stuff and learning new things on what I want to do, but also trying to balance that with some family time as well."
"So I'm hoping we'll all come back better and refreshed after this break and I think everyone, the players especially, is going to be so grateful to return because they've never experienced a period like this and I think people can easily take for granted what they have, being a professional footballer, and lose sight of how privileged you are to be in that position."
He concluded: "I don't think that will happen again so I think that will be a positive for us."