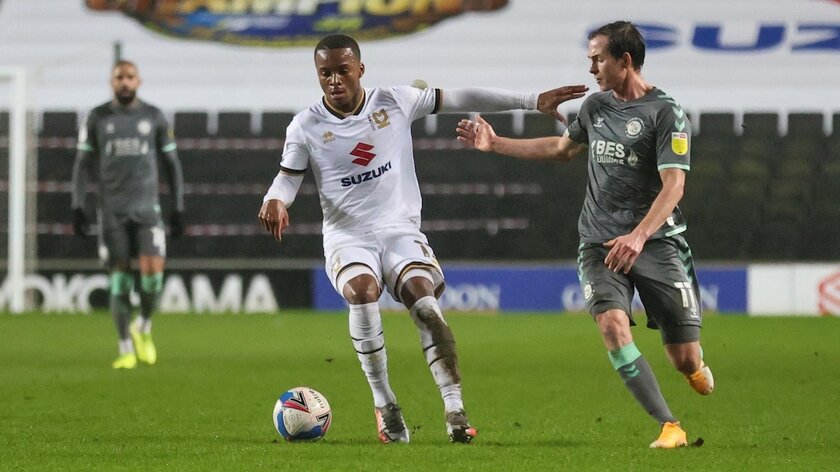 Image Credit: Milton Keynes Dons Football Club
Milton Keynes Dons are no strangers to bringing young Premier League prospects to the club on loan deals, and new sporting director Liam Sweeting spoken about this process.
Clubs at League One level operate at budgets far different to those in both the Championship and Premier League, and loan deals are an opportunity for clubs to bring in first-team quality players at this level while also seeing young talent given the chance to develop at the professional level.
The Dons have had plenty of memorable loan signings over the years, with the most recent being Manchester United right back Ethan Laird, who become a staple of head coach Russell Martin's starting line-up after arriving in January this year.
When asked about loaning players from Premier League clubs, particularly those in the Under-23s category, Sweeting told MKFM: "I think it's something we always focus on, it's a sector of our market."
"You consider the markets that are available to a League One club, you look at the Championships, League One, League Two, you look at non-league, Scotland, Ireland and then you're into Premier League teams who all have Under-23 teams."
He continued: "For sure, it's a huge area that we focus on and if we feel like there are players from that sector that fit what the manager needs then they come into the process."
"We were really fortunate with the ones we took up. You look at Ethan Laird and his impact, from January onwards he played almost every game."
He concluded: "As long as the ones we take are capable of doing that and have such a positive impact like Ethan did, on and off the pitch, then we'll continue utilise that part of the market."