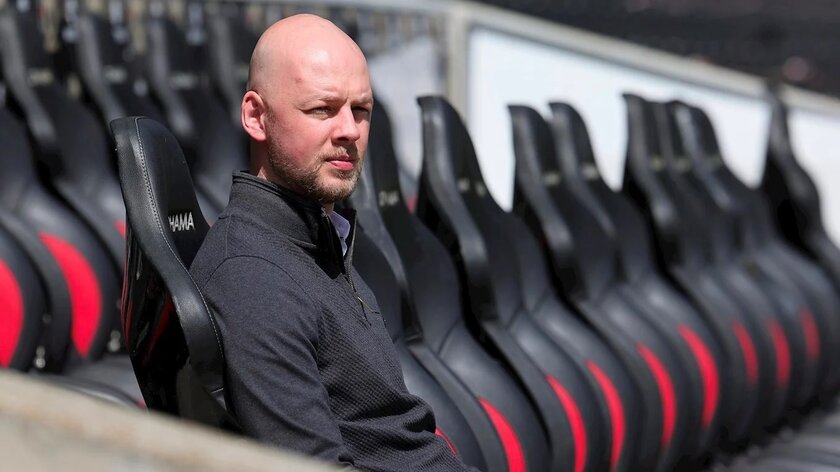 Image Credit: Milton Keynes Dons Football Club
Last week, Liam Sweeting was announced as the new sporting director for Milton Keynes Dons and he has provided some insight into what this new title entails.
Sweeting has been a part of the club for just over three years, working as the Dons' Head of Recruitment and Performance Analysis, and he now steps into a newly established role at the club after the recent departure of Andrew Cullen to Portsmouth.
Speaking exclusively to MKFM, Sweeting has provided some insight into what his new job, a first for the Dons, will be focused on.
He explained: "The sporting director role, everybody asks that question, including my own family, what is it you're going to be doing?"
"Between me and Simon [Crampton], we're effectively going to be running the football operations side of the business."
"He will be more operations focused and I will be more football development pathway, recruitment, my relationship with Russ [Martin]; all those kinds of things will fall under the sporting director, including speaking regularly with the chairman, and just making sure that the style of play, the ethos, the sorts of things we want to see on the pitch are being delivered."
He added: "I'm the person, alongside Russ, driving standards to make that possible."
With Sweeting's background in recruitment, the question of potential transfers, including the potential attempts to bring fan favourite striker Will Grigg back to the club for a third spell, was raised.
Sweeting commented: "That will be down to me and Russ, obviously Griggy is a player we think really highly of but he doesn't belong to us, he belongs to Sunderland."
"We don't have as much control over that one as we might another target, but for sure we'll be informed on that situation."
"Ultimately, the sporting director role is going to be judged externally by the recruitment. But one of the benefits of this approach is we'll be more collaborative."
He continued: "So, between myself, Russ and the chairman, we will be the people responsible to bring the right players to the club. Hopefully what that enables us to do by padding out the team a little bit, with myself as sporting director, is that if there's any change down the line with either me or Russ, then the business can adapt slightly and be slightly stronger with what's going on behind the scenes."
This type of approach is a fairly unfamiliar one to teams further down the English football pyramid, but Sweeting believes that contributes in part to a number of teams across Europe's success.
He explained: "It's relatively new for League One, it shows how the chairman thinks and that he wants to operate slightly differently to how some teams operate, and I think that will give us an edge."
He concluded: "But, for sure, the best European clubs, the big football giants, certainly are beginning to follow this structure and the more successful ones, in my opinion, already do."