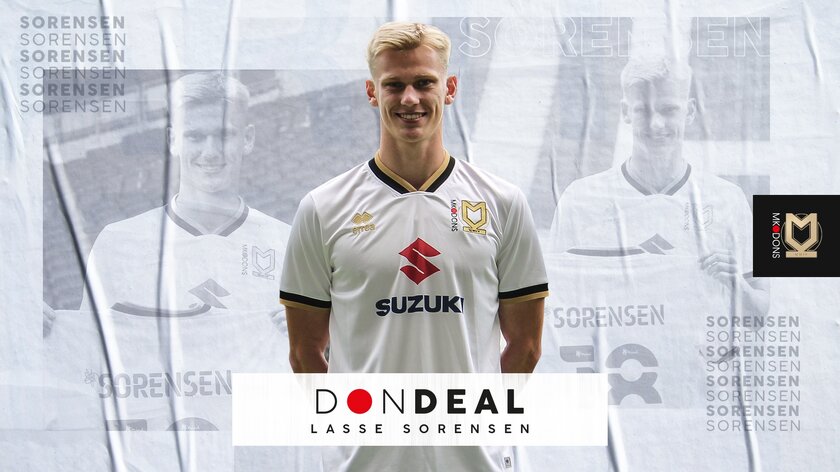 Image Credit: Milton Keynes Dons Football Club
Milton Keynes Dons have today announced the signing of promising midfielder Lasse Sorensen on loan from Championship club Stoke City.
The Denmark Under-20 international joins the Dons on the back of a run of six appearances for his parent club after the Championship's return to play, with the 20-year-old playing the majority of the 2019/20 season with the Under-23s side.
The Vejen native joined Stoke's youth academy back in 2016, having started out with Danish side Esbjerg fB, and will now look to earn regular first-team minutes with the Dons in League One.
With the departure of Alex Gilbey earlier this summer, Sorensen has the potential to fill the gap left by the former Player of the Year but also offers plenty of flexibility for manager Russell Martin.
Standing at 6-foot-1, Sorensen is capable of playing any position through the centre of midfield, being utilised both in the traditional role as well as the holding midfield spot, but is traditionally viewed as a number 10.
Speaking of his latest signing, Martin explained: "He's an excellent player, really good character really good athlete, really good footballer and he turned down two really high profile clubs in League One to come to us because he believed in what we're doing."
"We've had contact with him throughout the period because we were allowed to by the club, but they were still unsure whether they would let him out."
"They left it down to him and in the end he's come to us, so I'm really pleased with that. Another sign of intent, he liked what we were doing, he thought he'd fit it really well."
"I spoke to four or five people about him as a person and they couldn't speak highly enough of him. His attitude and his professionalism is exemplary."
He added: "Even at Stoke he's the best, hardest trainer and he played really well, I watched a lot of their games when they returned so really pleased to get him here at Stadium MK and I'm looking forward to working with him."
"He brings a real understanding of the game, real footballing ability with an incredible range of passing. He's fantastic with set pieces, taking all of them for Stoke towards the end of last season, and he's a powerful athlete."
"He's going to bring a bit of everything, he brings us more competition in midfield, which is great, and he's really flexible."
"He was initially bought as a number ten, but because he's such a good footballer he's ended up playing as a deep lying midfielder for Stoke at times."
He concluded: "He's going to need a bit of work to get used to what we're doing because it's probably different to what he's been doing and the style of play to Stoke so we need to have a bit of time with him but I'm really excited to have him here."