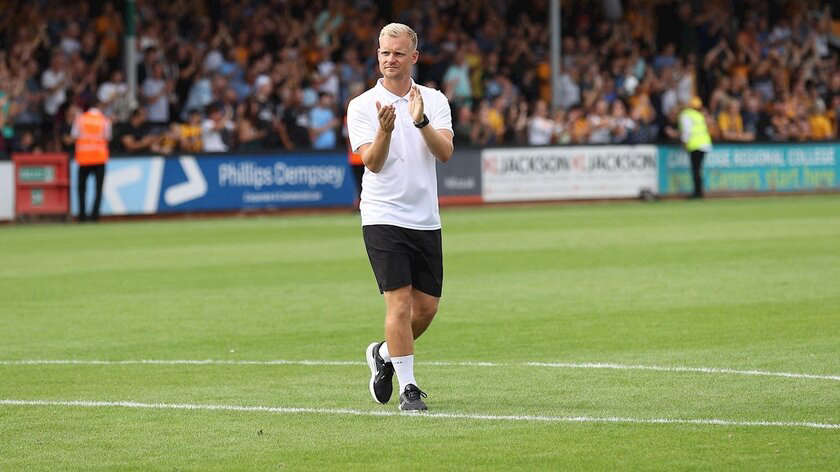 Image Credit: Milton Keynes Dons Football Club
Milton Keynes Dons head coach Liam Manning has provided updates on the key players currently sidelined with injury.
Striker Mo Eisa remains in long-term rehabilitation following his injury towards the end of last season, and is not expected to be seen over the coming weeks.
Speaking ahead of this Saturday's home fixture with Sheffield Wednesday, Manning commented: "He's still working away, he's still quite a way off so we're not going to be seeing him for the next four, five, six weeks."
There was further disappointing news for the Dons as it was revealed that Tennai Watson will also be missing significant time after himself suffering an injury during pre-season.
Manning explained: "[He's] had surgery, so he's out for a little while unfortunately, he was looking really strong in pre-season. So, he's out for a while but he'll get back as and when."
"It's important we look after him properly, to not rush him back so we can keep him on the grass. He's such a big part of what we do."
Manning went into further detail over how the club works with injured players to keep them around the team throughout their rehab process, ensuring they are looked after both physically and mentally.
He said: "It used to be that if you're in the treatment room you don't get spoken to until you're back fit, and it's pretty much moved on since then."
"We'll involve him [Watson] very much in little bits, whether it's opposition, looking at the coaching badges, or doing some media stuff."
"With the guys here it's very much how do we keep football at the forefront of his mind. His priority has to be the rehab, getting himself back as quick and as strong as possible, but alongside that he's still a footballer, he's still passionate about the game."
"We did it last year with a few of the guys that were injured and it was really beneficial. They came back highly motivated in terms of mentally slightly ahead of speed-wise because we've challenged them to study when they're out."
Last week's league opener saw the Dons lose Josh McEachran early on, with the experienced midfielder now set to miss some time also.
Manning explained: "It wasn't great news, to be fair. It looks like he's going to be out a little while, which is a real shame."
"Josh had a really good pre-season, he looked strong, his running was good, he looked confident as well, which was another big thing, so it's a bit of a setback but he's been through it before in his career."
"He's got that resilience, that toughness and the emotional control he needs to focus on what he needs to do to get back and he's someone we'll continue to lean on with his experience and what he brings to the group. He's a real big part of what we do."
A bit more positive news on the injury front concerning wing back Daniel Harvie, who is progressing well in his own recovery.
The Dons boss commented: "He's out running now, so he's heading in the right direction. I've been really pleased with how he's looking, his running is looking good.
He added: "Physically, you can see he's added a little bit of muscle as well so he looks to be in good shape at the minute, so he's not a million miles away."