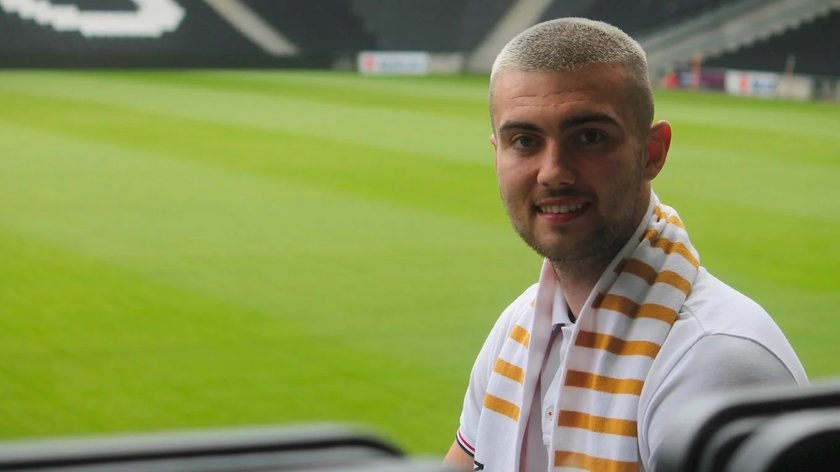 Image Credit: Milton Keynes Dons Football Club
Milton Keynes Dons boss Russell Martin spoke about recent signing Daniel Harvie and how he was identified by the club back in January.
Harvie became recognised as one of the best young talents in the Scottish Championship last season, being named Ayr United's Player of the Year at the age of 22, and the Dons have had eyes on him since the turn of the year.
Speaking in Monday's press conference, Martin explained: "He was highlighted quite early on in January by Liam Sweeting and I spoke to a lot of people up in Scotland about him as a player and a character."
"I spoke with Scott Gemmill and Malky Mackay within the Scotland set-up, and I spoke to a couple of guys at Aberdeen."
"Then, I was on my pro licence and mentioned it to a couple of other guys and coaches who had worked at numerous clubs, like Hearts and Rangers, and they all said they had noticed him and watched him in games."
"I think all of that, and we kept monitoring him, and he just kicked on and kept doing really well and improved as the season went on and became one of the best players in that league let alone the best left-back."
He added: "He's still young, has a lot of improvements to make but he's one we're really looking forward to working with properly, he's got a great attitude, really aggressive and has a desire to win."
"He left Aberdeen at an early age when he could have stayed because he wanted to be able to go and play first-team football, which says a lot about him."
"He also had a lot of options up in Scotland, which probably would have been the easy option for him to take to progress his career but he was desperate to come down here and desperate to play for us and, in my opinion, that stands him in really good stead."
He concluded: "Again, really grateful for Andy and the chairman and the board to get that done really quickly so he has maximum time with us to make sure that he takes in all of the information, gets used to how we play really quickly and hopefully he'll be a really good signing for us."