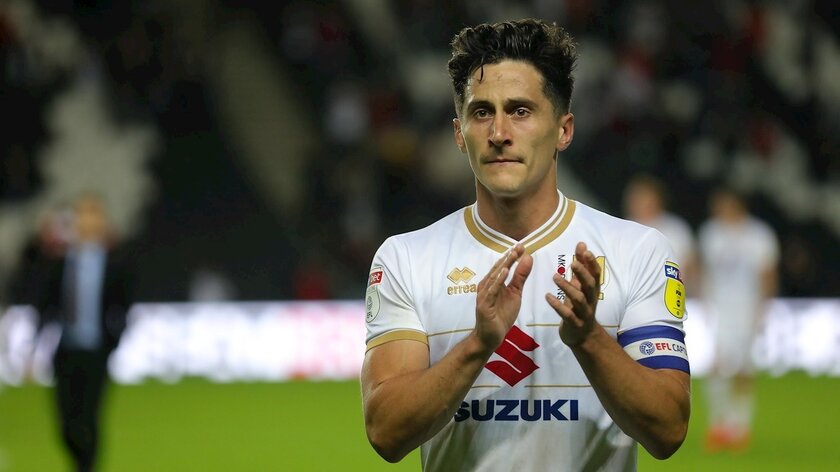 Image Credit: Milton Keynes Dons Football Club
Milton Keynes Dons defender George Williams has a chance to break into the team's top ten appearance makers during the 2020/21 season.
The 27-year-old versatile right-back/centre-back has played 162 total games for the Dons since returning to the club back in 2016.
The former youth academy player had an interesting journey to becoming a professional footballer, requiring spells with Loughborough University and Worcester City in the old Conference North before landing with then-League One club Barnsley.
But it was the Dons that Williams has always dreamt of playing for and now, sitting just 20 games behind Sean O'Hanlon in the record books, ranked 12th all-time, Williams has a chance to make history with the club he has supported since he was a boy.
Speaking on MKFM's Breakfast Show this morning, Williams commented: "I've loved every minute of it, there's been some ups and downs, some promotions and relegations."
"It's been incredible, the fans have been brilliant, all the staff here, there's been quite a few over my time, but everyone's been brilliant and long may it continue."
"I love being here, I'm from Milton Keynes and I used to watch at the Hockey Stadium home and away."
"I love playing for the club and I'm going to do everything I can to help the club on the pitch."
He added: "If I can be here as long as I can then that would be brilliant, but right now I just need to get myself fit and get back playing again."
His love for the Dons stems from his time watching the club as a youngster as a season ticket holder, before eventually joining the academy and, later on, becoming a first-team regular for the club.
When asked about his memories of watching the club from an early age, Williams explained: "I remember when Wimbledon were first coming over, there were a couple of games at Selhurst Park I went to."
"My dad took me down there to go and watch and I remember seeing a young Dean Lewington there and then I followed the club home and away."
"I used to love going down to the Hockey Stadium, in the Cowshed, I used to get the away bus to the away games, which was good fun and I used to get all the autographs and what not."
He concluded: "They were my first real football team to support because I never really had a team and they were the local team for me so I loved it."