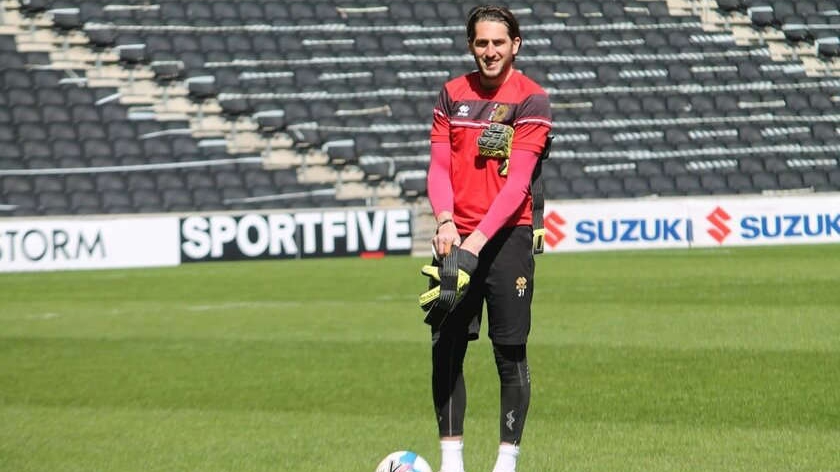 Image Credit: Milton Keynes Dons Football Club
Goalkeeper Franco Ravizzoli was named Milton Keynes Dons' Man of the Match in last night's loss to Tottenham Hotspur and he fully deserved the award.
The 24-year-old Argentinian put in a number of impressive saves to keep the Premier League club honest in last night's 3-1 loss, and manager Russell Martin agreed that he was fully deserving of the award.
The former Eastbourne Borough stopper joined the Dons this summer after spending the back end of the 2020/21 season training with the club, and he has impressed throughout the early stages of his time with the club.
Speaking of Ravizzoli's time so far at the club, as well as his performance against Tottenham, Martin commented: "I thought he was fantastic. Good decisions, some great saves."
"We brought him in because he came in to train with us at the end of last season. He played for one of my best friends Sergio Torres, and Chris Whelpdale at Eastbourne Borough, they both spoke so highly of him throughout the season and at some point it was like 'we need to have a look'."
"He came in at the end of last season, he was great, hadn't trained full time so it took a while for him to get used to it. He's got great pedigree, he comes from one of the biggest clubs in South America [River Plate], he was there for eight years as a kid."
"But, most importantly, just a brilliant character, a great professional. He's struck an instant relationship with a lot of the guys because of the way he is; genuine, humble, modest, hardworking, exactly the kind of character we want to recruit."
He continued: "He had a wobble the other day at Bristol City. He's not been with us for very long at all, he's not played. The other day he wasn't as good as he would've like to have been, he was quite hard on himself. But, he deserved the opportunity tonight."
"Him and Laurie [Walker] have been neck-and-neck, Fish is obviously carrying an injury, it could've gone to either of them but we made a decision to go with Franco, see how he coped with the fans, see how he coped after being unhappy with his performance the other day, and I thought he was brilliant."
"He deserved his Man of the Match, I'm really pleased for him and hopefully he will go from strength to strength and Laurie came on and done great as well, so we have real strength in that department, real trust in all three of the guys, and we need competition."
He concluded: "I think the biggest thing for us now is we have more competition than we ever have done at the club in terms of every position, really. You have two guys who are capable of playing it, so really pleasing for us."