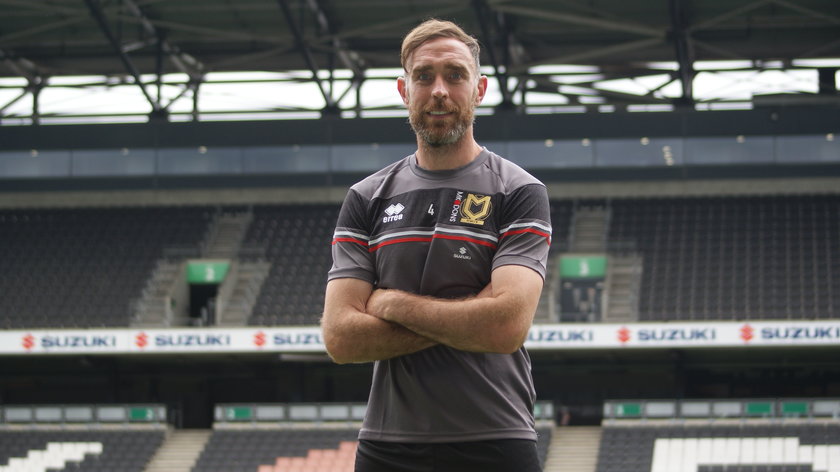 Image Credit: Milton Keynes Dons Football Club
Milton Keynes Dons boss Russell Martin has expressed his delight at landing a player of Richard Keogh's quality during this transfer window.
The 33-year-old Republic of Ireland international joined the Dons after being released by Championship club Derby County ten months ago under acrimonious circumstances but now finds himself having a chance to play regular first-team football again under Martin.
And the Dons boss is delighted to have Keogh join his squad, highlighting his leadership qualities and experience and explaining how he can be a huge influence for the team both on and off the pitch.
Speaking at Monday's press conference, Martin commented: "I think he will be huge for us on, and off, the pitch there's no doubt about it. Big character, big leader, a top, top player."
"He's returning back to fitness so we might not get him from the very start of the season but I'm absolutely delighted to bring him in, he's going to be a really big signing for us."
"It's why I put so much hard work into bringing him here and I'm just delighted he's so excited and happy to be here. He's just so hungry to take on the challenge."
He added: "With older players, he's not towards the end, he's had ten months out which I think he'll end up getting back with the amount of hard work he's put in, but some older players who are getting towards the end of their career are just looking to sign somewhere to keep them ticking over or to earn another year's money but that's not the case with Richard."
"He turned down more money elsewhere, he's excited by the challenge, he's so hungry to prove he's still a top player so I'm really excited by it. His mentality and what he's come in with already makes me even more excited for what comes ahead in the season and he'll be huge for our younger players."
"So yeah, I'm really looking forward to him getting going and fully integrating into the squad."
Expanding on Keogh's possible role as a mentor for some of the younger defensive players, such as Baily Cargill and Regan Poole, Martin believes it would be mad for the club not to use someone of his character in such a way.
He explained: "I think we would be mad not to try and use him in that kind of role with the character he is."
"I think that will happen naturally anyway but he'll be involved in a lot in terms of managing the group for us and with us alongside Deano the captain."
"I think he'll be really good for our younger players, he'll pass on some invaluable stuff I'm sure and in the dressing room he'll manage their emotion, their expectations."
He concluded: "I've got so much belief in him as a person and a character within our group, I just think it's great that we've got him on board and I think the players will realise that it's a real statement and I think they'll be excited to work with him."