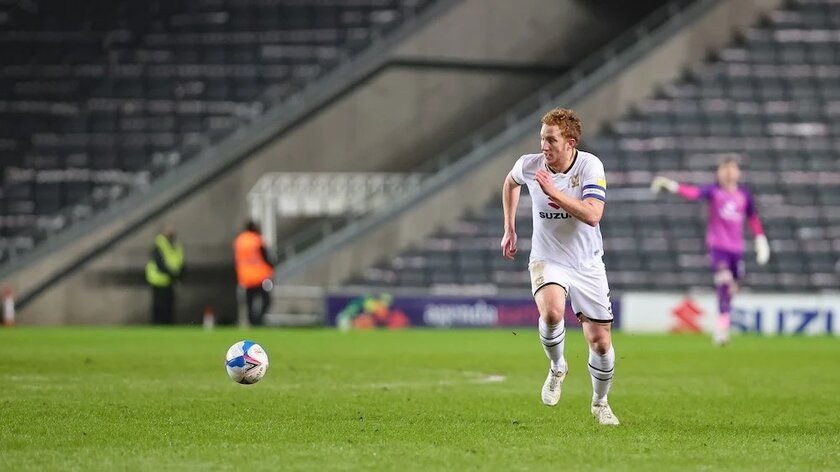 Image Credit: Milton Keynes Dons Football Club
Milton Keynes Dons captain Dean Lewington has spoken of the team's performances this season and the impact the signings in January have had.
The Dons have been in exceptional form since the turn of the year, with Lewington playing a key role on the left side of the defensive back three in Russell Martin's attacking system.
The Milton Keynes club currently sit 11th in League One after a slow start to the season has been overcome with seven victories in their past ten matches.
Speaking of the team's form in recent weeks during MKFM's Fans Forum on Monday, the Dons skipper commented: "The last six weeks have been really positive. I think the start of the season was a real fluctuating period. It was a lot of change, a lot of players in and out and it showed on the pitch really."
"We were playing okay but just not getting the results and I think January, with a settled squad, things have really improved and we've been managing to get some points on the board but also playing well too."
He added: "It's been an enjoyable season on the whole, but especially the last six weeks it's been really good to be involved in."
One of the biggest influences on the team's recent form has been the whole-sale changes made to the team during the January transfer window, seeing six new faces arrive at Stadium MK while six players departed, with players such as Will Grigg, Harry Darling and Zak Jules having an immediate effect.
When asked about the recent signings and their impact, Lewington commented: "It's huge. Russ mentioned me a couple of days before; I was doing the ground work with Griggy before he came, trying to sell it back to him."
"As soon as he walked through the door, to MK Dons fans and the club he's been an inspirational figure to everyone and everyone knows how good he is and what he did for us last time."
"It's just massive to have someone in the team like that."
He continued: "And Harry as well, I think when we lost [Richard Keogh], everyone was a little bit worried about where we were going, and [Regan Poole] left shortly after and that was on top of a lot of signings in the summer that had left."
"They've got a plan, and they've been recruiting really well and the players that have come in have all stepped up and become a part of Russ' long-term vision."
He concluded: "It takes time but everyone in January has hit the ground running so it's been really good."