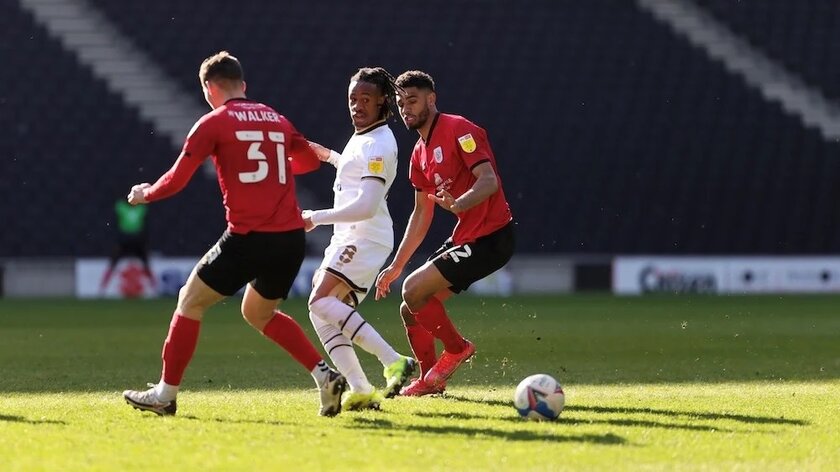 Image Credit: Milton Keynes Dons Football Club
Milton Keynes Dons midfielder David Kasumu is reportedly attracting the interest of clubs in the Championship ahead of the summer transfer window.
The 21-year-old central midfielder has had an up-and-down season for the Dons, establishing himself as a key first-team player while also suffering through injuries and setbacks that kept him side-lined for over three months.
Ahead of the final match of the 2020/21 season, Kasumu has made 29 total appearances (65 across his career) for the Dons and has proven to be an extremely valuable member of Russell Martin's group just one season after breaking into the first team on a regular basis.
The academy graduate plays with a physicality that adds plenty of bite in the middle of the pitch; never shying away from making a challenge or doing the gritty things that are necessary at times at this level.
Kasumu needs to work on his discipline, with 12 yellow cards earned this season, but his style of play makes him an easy target as he asserts his strength on opposition players.
When fully healthy, Kasumu's talent is clear to see and he continues to grow within Martin's offensive passing style - something that appears to be impressing teams in the league above.
According to reports in the Telegraph, Championship clubs are taking notice of Kasumu with the season coming to a close and plans for the summer beginning to take shape for many.
The interest in the young midfielder's talents is unsurprising and keeping him around for the 2021/22 season will likely be a priority for Martin, who will be eager to have him and his physicality around and hopefully available for a full season.
Transfer rumours are likely to build over the coming weeks, and plenty of Dons players will interest teams both in League One and above. With how long there is until the summer transfer window officially opens, these kinds of rumours may be best taken with a pinch of salt until serious momentum builds nearer to the time.