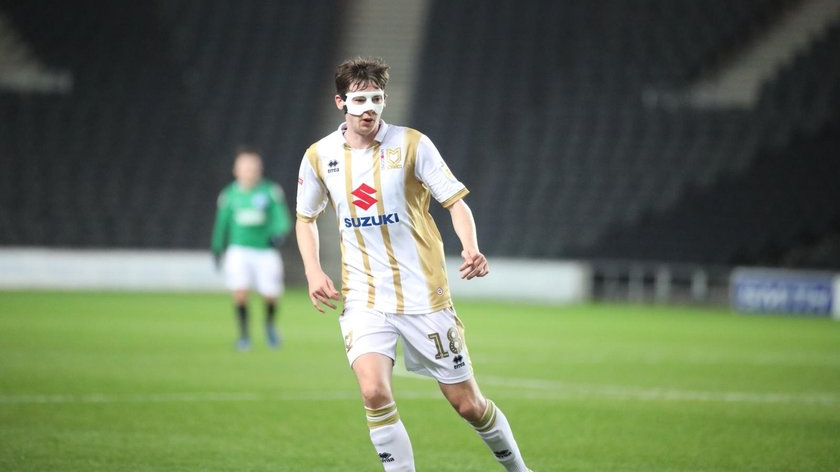 Image Credit: Milton Keynes Dons Football Club
​​​​​​​MK Dons were knocked out of the Checkatrade Trophy after an Aaron Connolly hattrick saw Brighton & Hove Albion Under-21s to a 3-2 victory Tuesday night.
The Dons, who were also knocked out of the FA Cup just a few days earlier, had taken an early lead thanks to Kieran Agard.
Agard, who has now scored six goals in nine games, drilled a low shot past Finland Under-21 international Hugo Keto after receiving a pass from Lawson D'Ath in just the sixth minute of the game.
The Dons held their one-goal lead until the 23rd minute when Connolly picked up the first of his three goals.
Scottish midfielder Connor McGrandles made his return to the starting line-up after suffering a facial injury in the opening day of the season and looked lively throughout.
With the score tied at 1-1, McGrandles had a cross headed by Ousseynou Cisse, which was intercepted before Agard could reach it, before also having his own attempt at goal just a few minutes later.
Paul Tisdale's side re-took the lead five minutes before the half when D'Ath once again provided a pass, this time coming in the form of a low corner, for Mitch Hancox to slide into the back of the net.
Hancox's first goal in a Dons shirt wasn't enough to secure Tisdale's side the victory, with the 18-year-old Connolly driving home a close-range effort to tie things up at 2-2.
It took seven minutes for the young Irish striker to secure his hattrick, scoring the game-winning goal at the far post.
With the game ending 3-2, and Peterborough United defeating Luton Town 2-1, both the Dons and Brighton were eliminated from the competition.
Speaking after the game, manager Paul Tisdale comments: "Lots of what we saw today I'm not surprised about. We played some good stuff, we had some intensity in our game at the start."
"I thought we looked really lively for the first quarter."
"I have to be careful to not be too disappointed by it because it really did feel disappointing in the second half especially."
He adds: "I've been here before, I know the grand picture, what we're working on and as much as I don't like losing a game of football, especially when it feels lacklustre like it did second half, the reality of it is there were players there desperate for ninety minutes, haven't played enough football maybe and they tired considerably into that second half."
"Am I surprised by that? No. It's a reminder to them and to us that we've got to keep that supporting group of players on their toes and ready. That was a good reminder today."
"I think we just lost our rhythm, when we got tired, we made uncharacteristic mistakes and thing just unravelled a bit."
MK Dons now turn their attention back to the League Two promotion push, with Macclesfield Town visiting Stadium MK this Saturday, with the usual kick-off time of 3pm.