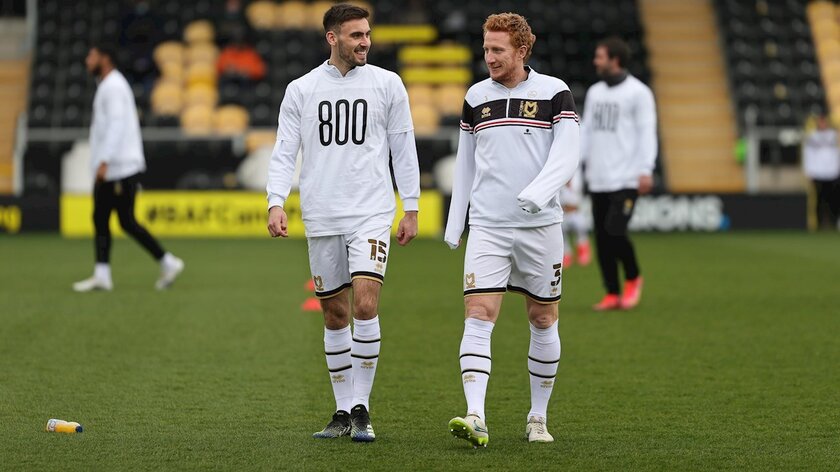 Image Credit: Milton Keynes Dons Football Club
Milton Keynes Dons chairman Pete Winkelman has heaped praise on captain Dean Lewington after he reached 800 appearances for the club.
Lewington began his career in the Wimbledon FC youth academy and made his professional debut for the club back in the 2002/03 season, coming on as a final minute substitute against Sheffield Wednesday.
He is the sole surviving player from the club since the subsequent move and rebranding that occurred over the following two seasons, becoming synonymous with the Dons since the very first year in Milton Keynes.
The Dons' trip to Burton Albion on 20th March saw Lewington step onto the pitch for the 800th time since the club became Milton Keynes Dons, 832nd in total, an achievement that is unlikely to ever be broken.
When asked about Lewington, Mr Winkelman was full of praise for a player that will forever be linked with the club and likely deserves a significant honour to commemorate his career.
Mr Winkelman commented: "Eight hundred appearances, how amazing is that?"
"I absolutely love him, because he's been there throughout my entire time at the club as a really solid, nice, focused, hard working human being. A good, good man."
"It's just brilliant to see him do it. He's doing something that, how often will this happen in the future? Eight hundred appearances for one club, a career with one club."
He added: "These are unusual times, and he's a fantastic player. How long can he go? I really don't know. I've seen other players play on for a few more years."
Very few players have ever reached the 1000-appearance mark in their careers, even fewer when only club appearances are considered, but the number was put to Mr Winkelman, who had a realistic view, but also believes Lewington would be the player to surprise everyone with such a feat.
He commented: "I think a thousand is a lot, very few players have been able to get to that amount. But is he going to rack up a few more? Oh yes, I think so."
"As hard as it is, and as obvious as you might think, well he's this age he can't possibly still be in the first team, but actually he's there because he adds to our play."
"He's so reliable, he's a very consistent player, he starts many of our attacks now and he's so comfortable on the ball."
He concluded: "It wouldn't surprise me if he goes on to make a lot more. I think a thousand is really asking for it, but would you put that past Lewie? No."