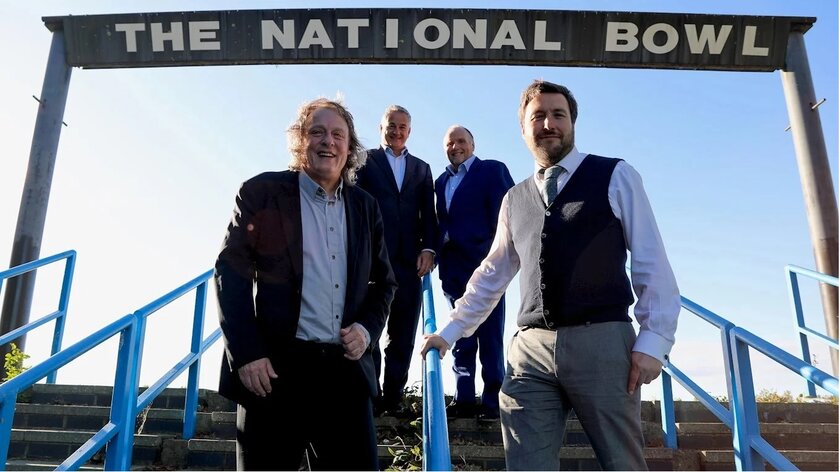 Image Credit: Milton Keynes Dons Football Club
Milton Keynes Dons chairman Pete Winkelman has provided an update on the progress of the team's new training facilities, set to be located at the National Bowl.
A new training ground has been something the Dons have worked hard to make a reality over the past decade, with multiple attempts to purchase land and gain planning permission knocked back.
Last November a light appeared to be growing on the horizon when the Dons announced that both Milton Keynes Council and MKDP have approved the use of the National Bowl for the team's new facilities.
Now, speaking to MKFM on Dons on Saturday, Mr Winkelman has provided an update on how proceedings are going with regards to the new facilities.
"There's loads of good things happening with the training ground, the deal we did with the council is actually about to get signed in the next couple of weeks."
"That's a year just to get the deal done, to put things into perspective, and it will be possible for us to have planning permission within the next 12 months."
"It means nothing, a planning permission doesn't mean anything. How are you going to execute that planning permission?"
"I need to have those opportunities at the Bowl to create some developments, to take the value to build the training ground."
"It will only be real when all of those deals come together and like everything else, I can't tell you when."
"Everyone can criticise Woughton as much as they like. It's all fenced off at the moment because we have to use it in COVID."
He added: "It's not the end of the world, maybe I haven't spent enough money at Woughton because I've always been thinking I'm going somewhere else, but I'm not going to do a training ground that's like Woughton."
"I want to do something that's in line with this stadium so that when we are a top flight football club, it's the right training ground."
"When we have an international match at this stadium, they can train at an international standard training ground and you can't do that overnight."
"I have big ambition and I'm only going to build something if it's great and if it's great, it's going to cost a lot of money."
"If it costs a lot of money, I need to do a lot of other developments to make that money to be able to spend."
"So I'm really clear on how we're going to do it. You will see movement, you'll see some drawings and pictures because Populous, the architects of the stadium, are doing the Bowl."
He concluded: "You want to talk about ambition? I've got the biggest architects in the world looking at how we make the Bowl a fantastic place as well as a fantastic training ground. Something that's another asset and icon to Milton Keynes."