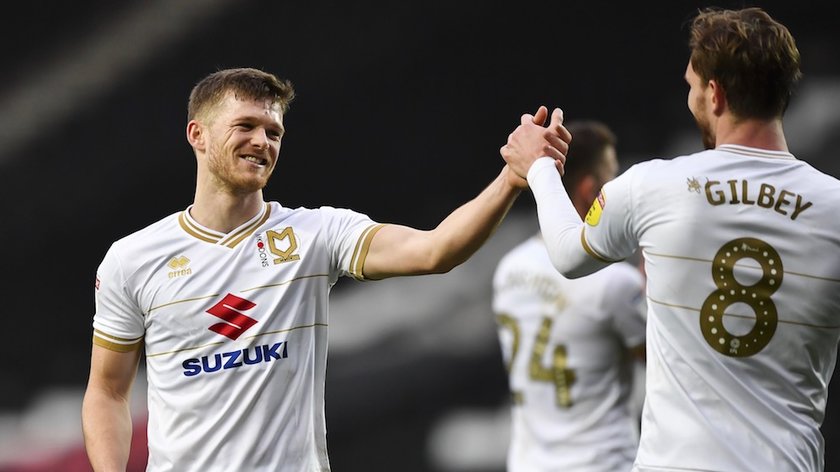 Image Credit: Milton Keynes Dons Football Club
Milton Keynes Dons chairman provided some clarity today surrounding the circumstances around the departures of Alex Gilbey and Rhys Healey this summer.
Fans have been left disappointed that the club have sold their Player of the Year in Gilbey and top goalscorer in Healey, but have seemingly not yet brought in replacements.
Some fans have questioned why such important players were allowed to leave in the first place and the club's chairman has spoken today to try and provide some further clarity around the circumstances of their departures.
When talking about Healey, who left to join Ligue 2 club Toulouse last week, Mr Winkelman explained: "If you had told me a week ago that Rhys was going to go, I wouldn't have believed you because we didn't want to sell him."
"But when a player phones me up and says chairman my future is not with your club and I've loved my time with you, I want to be able to go, I can't say no to that."
He continued: "I don't care if that makes me a weak chairman, I'm a human being, they're human beings and I think that respect that I show our players means that when I ask them all for a wage deferral last year, every single one of them said yes."
"You just can't have it both ways, you either treat people fair and the way you wish to be treated yourself, or you don't, and this club while I'm in charge will treat people fair."
He added: "I'm sorry for the chaos it causes all of us, but that's football, you never know what happens."
Mr Winkelman also tried to clarify some differences between the reasons why Healey left compared to Gilbey, who joined fellow League One club Charlton Athletic earlier in the transfer window.
He explained: "I will make a distinction between Alex and Rhys, I'm very disappointed to see Alex go, I had a very strong personal relationship with him over the years."
"When I spoke to Alex and he explained to me he was getting a really big deal at Charlton, it's a three-year deal, I didn't feel it was possible for our club with the wage structure we have, with the salary cap coming on, that we can give that kind of money over a three-year period to a player."
He concluded: "I had to let him go at that point and it was about getting the best deal we can."