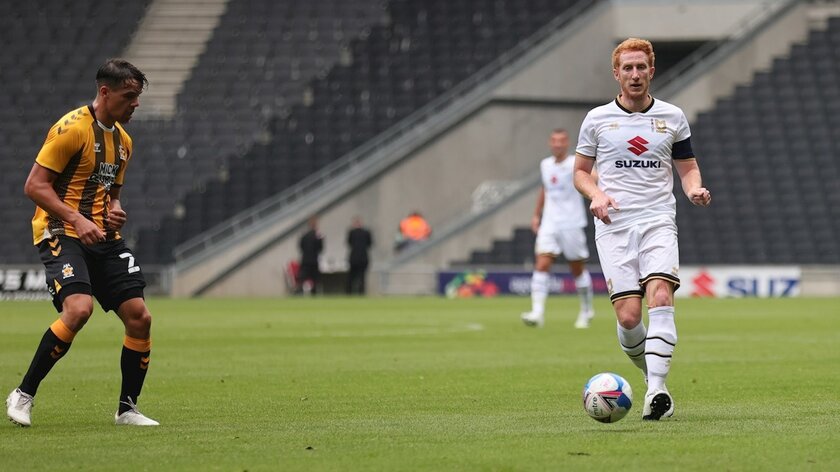 Image Credit: Milton Keynes Dons Football Club
Milton Keynes Dons captain and long-time left-back has said he is enjoying the move to a more central position over this pre-season.
The Dons' all-time appearance maker, featuring in 757 total games for the club and being the current longest-serving player for a single club in English football, has played on the left side of defence for his entire career.
He has been a stalwart for the club and has usually been considered the first name on any manager's teamsheet over the years.
With the style of football always changing, the role of the traditional full back is something that many teams are beginning to phase out, with more attack-minded wing backs becoming a popular trend, particularly across European football.
Lewington, now aged 36, has made the move into a more central role to continue to play a key part of Russell Martin's team, something his manager praised him heavily for earlier in the pre-season, with the veteran defender's experience showing in how quickly he has adjusted to his new position.
Speaking at Friday's press conference, Lewington spoke about how he has found the change during the summer.
He explained: "It's been really enjoyable, obviously with a change in formation the full back positions are that ones that have sort of missed out so it was a case of adapting and trying to fit in where I could."
"They highlighted that they thought I could play in that position and it's just been trying to learn it as best I could in the games that we've had."
"I've done a lot of work in it, it's something that's sort of fitted in naturally, better than we thought it would do so far, so it's something I'm enjoying, obviously I'm still learning it, still learning the system."
He concluded: "It's all very early on but there's been positive signs so far."