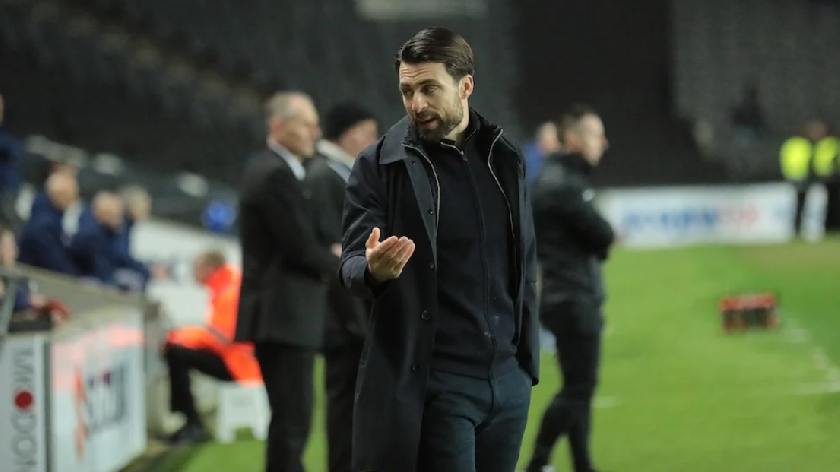 Image Credit: Milton Keynes Dons Football Club
Milton Keynes Dons manager Russell Martin spoke to MKFM this weekend and discussed the team's decisions regarding players out of contract this summer.
The Dons announced their retained list on Saturday, 20th June, and Martin discussed the difficult decisions and conversations he had to have with his players while looking ahead to what the club hopes to achieve in the 2020/21 season.
Talking of having to tell players that they would not be offered a new deal, Martin commented: "By far the toughest day of my managerial career was speaking to the guys that are going to be released."
"There's a lot of different dynamics involved in that so really difficult speaking to the guys who I've been teammates with; Stuart Moore, Jordan Moore-Taylor, Ben Reeves who have all been great for us on and off the pitch and Charlie Pattison, a really young player, so really tough."
"There's a lot I haven't mentioned there as well but then we've got guys who we've had to release at the moment but we'd like to remain in dialogue with, we just need to see where we're at financially."
"In conversation with them where we're now at mentally with us and the club and [they've] shown great intent to stay, some people like Ben Gladwin and Joe Mason, who will be on that list that we'll remain in contact with to try and sort something out so they can be with us for next season."
He added: "Things have changed dramatically financially for us so we have to be really conscious and aware of that and make sure that we don't put the club in a position that it doesn't want to be in financially in a year's time."
"We have to protect what we've got, so we have to be really shrewd in terms of the business we do and in the transfer market."
"We don't want to let any good players leave the building but we're going to have to and that's the harsh reality of the situation that we've had to deal with over the past few months. So, really tough."
"As always, the guys were amazing with how they took it, with how they dealt with it and some of the conversations we had. It just reinforced, to me, what good people they are and how important they have been to the process we've had so far."
"So, it was tough and there will be players who we've offered contracts to, Dean Lewington, Joe Walsh and Callum [Brittain] at this moment in time, and obviously we're waiting to hear back from those guys on decisions but hopefully we can get them sorted early and then after that, ongoing discussions with a few others and obviously some new players coming in as well."
Dean Lewington is a player that has been offered a contract and, having played his entire career with the club, even during the days of the original Wimbledon FC, Martin feels confident that his captain will be back for another season at MK1.
Martin explained: "I spoke to Lewie, he doesn't want to go anywhere else. He's been here for his whole career so I think he really buys into what we're doing as well and he's been really important for us as a group of staff as captain, he's been excellent."
"I think his performances as well, I think he really thrived with the way we were training and playing and I thought he was excellent, every week consistent and so, I can't talk for him but I'm really confident that he'll be with us for next season and I look forward to working with him again hopefully."