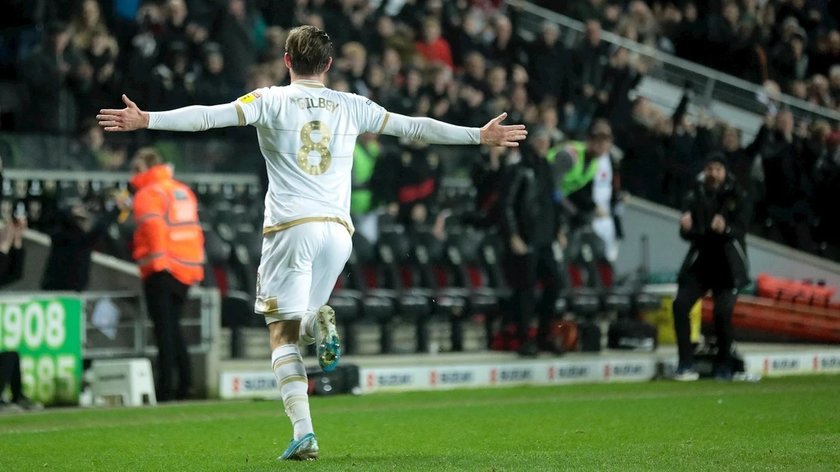 Image Credit: Milton Keynes Dons Football Club
Speaking at this morning's virtual press conference, Milton Keynes Dons manager Russell Martin clarified Alex Gilbey's situation at the club.
Speculation and reports emerged earlier this week that the Dons' back-to-back player of the year was in talks with Charlton Athletic, though a move to the London club appeared to stall due to their league-imposed transfer embargo.
Speaking to the press on Monday, Martin provided some clarity on the situation.
He explained: "It's pretty much what the reports have said. We accepted a bid for Alex from Charlton, the situation is ongoing because of Charlton's issues with the new owners."
"To put it into context, really, and to be quite open and candid about it, it's been something that has been ongoing with various players throughout this period because of the impending salary cap that everyone knew was coming, so I completely understand that the players and agents have been looking to protect their players financially and for over a number of years as well, to help them."
"It's something that we've been honest and open with Alex and his agent all the way through and that they have been honest and open with us about clubs that were interested in him, and we've had it with other players as well."
"This is the one that was really interesting and appealing to Alex for a number of reasons, which I understand and I respect, being a player myself recently."
"So, I'm not sitting here vilifying Alex at all, but he expressed it was one that he wanted to take up and we discussed it and said if the deal was right for us, obviously we don't want a player who's not going to be happy staying here and if he wanted to go and play somewhere else then that would be the case."
He added: "It took a few days but then Charlton came in with an offer that was acceptable for us, for both, and Alex had obviously agreed on a contract at that end that was acceptable and he was happy with and then it all got stopped because of the embargo."
"So that's just me being completely honest, I'm not going to vilify Alex at all, I've got a really strong relationship with him and that will remain the case regardless of what happens."
"I understand it, a lot of people will be disappointed to lose him if it ends up happening now, I don't know what is going to happen, so it's a little bit of a mess so if he comes back, he comes back if he goes, he goes."
"It's football, things change. After what has happened it's a really different environment, it's a different transfer window and we're on board with what's happening."
"We've accepted a bid, we move on and if he goes, we're ready. We've planned, we've had four months of succession planning for everything and this was a scenario we had to plan for because he's a good player and we knew there would be interest and it's come."
"We'll have to see what happens from here on in, I don't know what's going to happen, it's a really unsettling time for him, which must be difficult so I'm in contact with him and we'll try and get it resolved either way as quickly as possible."
"If he goes, we'll offer him the very best of luck and if he stays then we've still got Alex Gilbey."
"So that's where we're at. I'm sure there are a few stories that are miles away from reality, but we're all comfortable with the situation and we'll have to wait and see what happens."
"It's now up to Charlton to sort their stuff out, they've got a time frame that it needs to be done in now and it's up to them to get it done within that timeframe and if they don't, we'll have to deal with the situation as that arises then."
Despite the uncertainty surrounding the whole situation, Martin stated that it hasn't impacted his own timeframe for signing players and finding a replacement should Gilbey depart.
He explained: "The timeline they've got to do the business in is the timeline we're looking at for the players we're interested in, just because of their clubs and they're waiting to see what happens."
"It's a domino effect, you're waiting for one thing to fall and the rest end up happening."
"Honestly, I'm quite relaxed about it, I think we all are, we know what the plan is if he leaves we know what the plan is if he stays and that's the beauty of having a thorough process that we've gone through."
He concluded: "I'm completely comfortable with whatever we do."