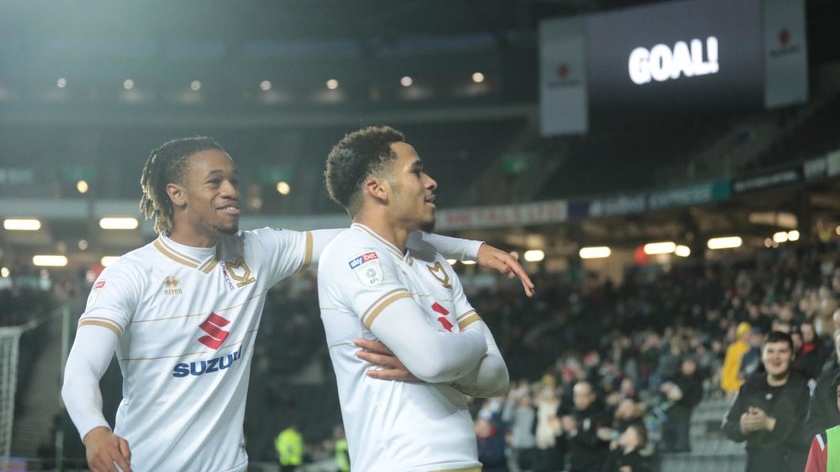 Image Credit: Milton Keynes Dons Football Club
After the emergence of Sam Nombe and David Kasumu, MK Dons boss Russell Martin is hopeful that more youth players can make the step up to the first-team.
Nombe and Kasumu both had breakout seasons for the Dons in 2019/20 and Martin is hopeful that the club can bring a couple more young players up through the ranks with some already locked into pre-season training with the first-team.
When asked about this in Monday's press conference, he explained: "I hope so, we've got Jack Davies training with us every day, we've got three or four of the young guys training with us now for pretty much the whole of pre-season because once they are with us they can't go back to the academy because of the protocols.
"They have a real chance to show what they are about in training and in games, so we're hopeful we can get one or two."
He added: "Dave and Sam, breakthrough season last season, now they've got to make sure they kick on from that and don't get comfortable and they cement themselves again and turn themselves into starters every single week."
"I'm looking forward to seeing how those two do, I think everyone was quite surprised by them last year, I don't think that was part of their plan but they forced their way in and they did it incredibly well and made sure they became a bit part of it."
"Sam obviously picked up a little injury and he's still getting back up to speed for us but David played a really important part, he brings something a lot of the other guys don't bring or can't bring in terms of his athleticism and his desire to go and compete."
"I'm looking forward to seeing those guys develop and it's up to us to make sure we polish off some of the rough edges and I'm hopeful there will be a few others and it's up to us to make sure they can be in and around it."