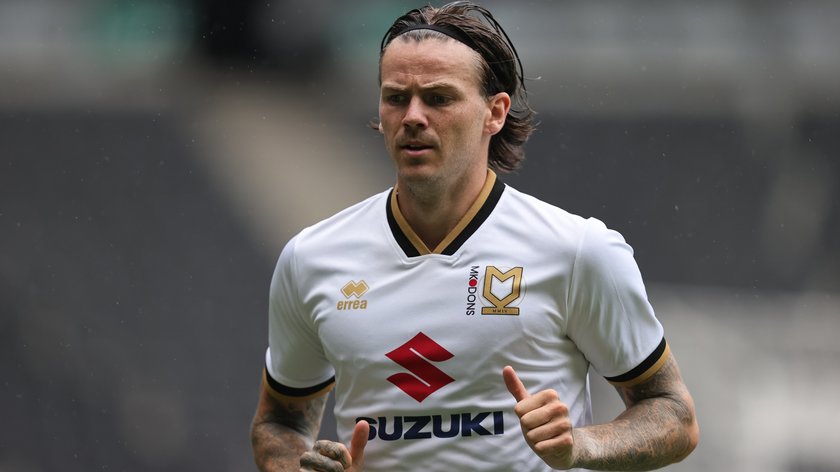 Image Credit: Milton Keynes Dons Football Club
Milton Keynes Dons midfielder Ben Gladwin has had a difficult couple of years with injuries, but he is finally starting to get back to being the player he once was.
The 28-year-old missed over two years of professional action due to injuries while playing for Blackburn Rovers, which prompted his move to the Dons back in January this year to start working his way back into regular first-team action.
He featured in just nine League One matches after his move to Stadium MK, scoring a goal against Buckinghamshire rivals Wycome Wanderers while being limited to substitute appearances to help manage his fitness.
The Coronavirus pandemic prevented Gladwin from featuring in more matches for the club last season, but it has given him time to work on his fitness at home and prepare himself for a return to Milton Keynes, something he stated was a priority for him.
Now that he has been in pre-season action for the past three weeks, featuring in the first half of the team's 2-2 pre-season draw with Cambridge United, Gladwin says he is feeling good about his fitness and believes he is in the best condition he has been in for quite some time.
Speaking at Monday's press conference, Gladwin commented: "I used the time off quite well, I've probably got myself in the best shape I've been in for a few years now so I've come back in pre-season and I've felt good."
"I felt good when I'm running, I feel like I'm moving properly and I'm looking forward to just putting that to use in the games."
Returning to regular action and playing more minutes in the 2020/21 season is a top goal for Gladwin, who could be in line to fill the gap left by the departure of Alex Gilbey, something he spoke about to the media on Monday.
When asked about goals and targets for next season, Gladwin explained: "The main one is just to stay fit, just to get myself through the season get as many games under my belt as possible."
He added: "Obviously I've got little personal targets that I keep to myself in terms of goals and assists but just staying fit and contributing as much as I can to the team and help them get as much success as possible."