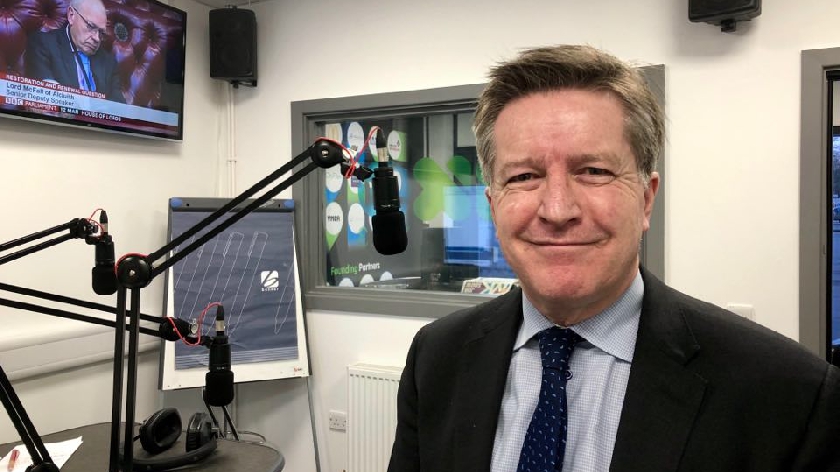 Milton Keynes Dons executive director Andy Cullen has spoken to MKFM about the salary cap imposed on League One clubs and how it has impacted transfer decisions.
Six players departed Stadium MK in January, with the club bringing in six brand new players and securing Warren O'Hora on a permanent deal to make it one of the busiest windows in the club's history.
A number of experienced, long-serving members of the team found themselves out of the door, including George Williams, Baily Cargill and Regan Poole, and the Dons' executive director has shed some light on how the salary cap imposed on clubs in the third and fourth tiers of English football has had a hand in those decisions.
Speaking exclusively to MKFM, Mr Cullen explained: "There is this new salary cap, which is really impinging on your forward planning and one of the aspects of this window is it's not just about the short term."
"It's not just about what we want to do between now and the end of the season, it was very much about looking ahead and that's a process we started back in the summer."
"This year, League One and League Two clubs voted for a salary cap in order to attempt to make clubs a little bit more sustainable than what they were."
"In League One, there is now a wage cap of £2.5 million and for this season you can have a squad list of 22 players."
"The squad list is determined by by players that are aged 21 or over and anybody under 21 doesn't count towards the salary cap and doesn't have to go on your squad list."
He continued: "Now, for next season, that reduces to 20 players. So that means that only 20 players over 21 in your squad and then that is divided among the £2.5 million that you're allowed to spend."
"This season we've been able to operate quite comfortably within the salary cap because we had a number of players who were in contracts prior to the salary cap coming in in August."
"What that means is that, rather than take the full salary that the Football League allowed you to actually treat those players as what's called a committed contract and you take them at the average wage of the salary cap."
"So, if you take a salary cap at £2.5 million on 20 players that means the average salary of a player would be £125,000. That includes everything, not just the basics; it would include all the bonuses, the health insurance we give them and the appearance money they receive, any accommodation allowance and national insurance."
"All those things have to be included, so it's pretty watertight as to what you can include. So, the minute we go back to a player who's out of contract and offer him a new contract for the new season, then that previous committed contract status falls away, so then you have to treat him at his full value and all of a sudden you're eating into a lot more."
He added: "We had a number of players on reasonably big salaries, who were well above the average but being treated at the average, and obviously for some players that wasn't going to be the case going forward, so it creates uncertainty now for a lot of players who are out of contract and they have to look for themselves about what the next 18 months, two-and-a-half years might bring for them. Particularly those that are 26, 27-plus."
"I think the certainty of getting a contract now is quite attractive as opposed to the free-for-all spirit that's coming into place in the summer, when there's going to be a far more competitive market for those players, so fair play."
"George recognised, as did Baily, that the opportunities for them to secure contracts, not know what we might be able to do for them next year, was the right thing to do and we're very very grateful to both players and indeed all the players that have left us and made a mark."
"But George, Regan and Baily in particular, who have been here for some time and all have tasted success, were all a part of the team that got us back from League Two and made a big impression when they came in, we wish them every success and totally understand the reasons why they should move."
He concluded: "That was all part of our planning, and of course that then leads to how do we start to assemble a squad which has real potential, is exciting but perhaps as well conceding that they will become assets to the football club and they will have value going forward as well."