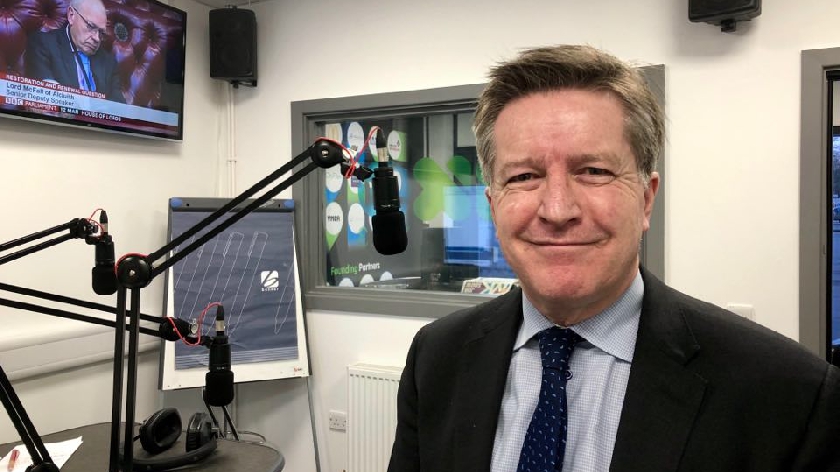 Milton Keynes Dons executive director Andy Cullen has told MKFM of the measures the club was working on in anticipation of fans returning to stadiums next month.
With cases of Coronavirus increasing drastically everyday, the UK government's latest restrictions saw the plan for football fans to return to matches delayed after it was initially expected that a percentage of crowds could watch their teams play from 1st October.
Now, with no date currently set for fans to make a return, Mr Cullen has explained on Dons on Saturday what measures the club were working on to ensure a safe environment for returning fans, while also expressing how devastated the club is that fans will still not be back in the immediate future.
When asked how disappointed he was about the decision, Mr Cullen explained: "Absolutely, it's the expectation and everybody at the football club was looking forward to spectators coming back on 3rd October."
"Our supporters were really up for it, we haven't been together since 7th March, and six months down the line we were all prepared."
"There has been so much work that has been put into place to get us to a stage where we could welcome supporters back in a safe way."
He added: "One of the things that football is all about is being a safe environment in any time for people to come into. We're heavily regulated by the Sports Ground Safety Authority (SGSA), the local authorities as well and by the emergency services to make sure football is safe."
The Dons had a trial run of bringing fans into Stadium MK last weekend when the Milton Keynes Dons Women's team opened their WPL Premier Division season against Watford Ladies, seeing around 500 supporters watch the match.
This was an initial test for the club to see how bringing fans back into the stadium could work and Mr Cullen described it as the final piece to the puzzle before the government's latest restrictions.
He commented: "That was one small piece, in fact it was almost like the final piece in the jigsaw for us".
"We've been working over the last month in terms of putting together algorithms, which allowed people to sit to together in their families so that with the social distancing rule, if you're a family of three in the same household you could sit together."
He added: "We were then snookered on that a little bit by the rule of six that came in and that sort of changed things a little bit, but we said no, we're going to maintain social bubbles."
"We put in things on the concourse so that people could socially distance; one-way systems, the instructions that face masks must be worn when entering the stadium and going to your seats."
"We were even going beyond that by going to conduct temperature checks on everybody that was going to enter the stadium, even though that wasn't necessarily a requirement."
He continued: "We felt the importance and the message that would give out to people that we were acting in a responsible and safe way would be really well looked upon."
"In the end, we've got a 30,000 stadium here and we were going to get between five-to-six thousand in here comfortably all throughout the stadium, socially distanced and in a way that would allow the players to reconnect with the supporters and the supporters to reconnect with their team and we're absolutely devastated that rug has now been pulled out of our feet."
He concluded: "I understand the reasons why, we've got to be seen to be safe but when I put it into context, you could walk into a shopping centre or into a pub, which is probably going to be less safe than Stadium MK would have been and many other football stadiums around the country."