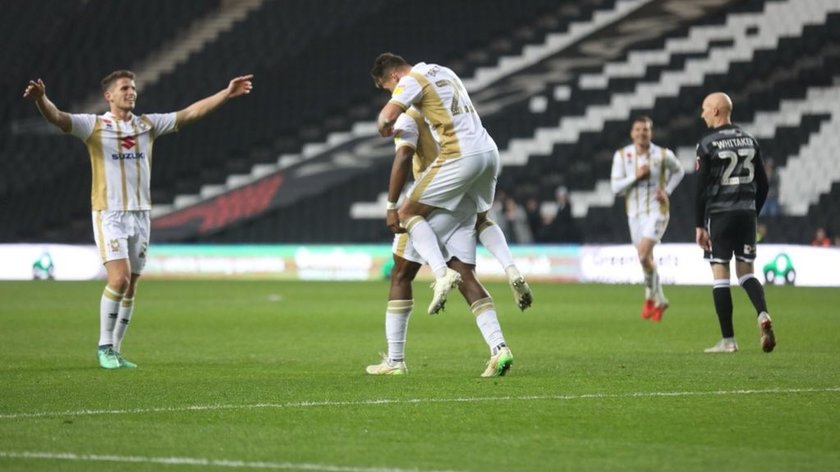 Image Credit: Milton Keynes Dons Football Club
​​​​​​​MK Dons extended their unbeaten streak in League Two to ten games with a 2-0 home victory over Macclesfield Town.
The Dons climbed, temporarily, into first place in the league due to Lincoln City's game being postponed – making them the league leaders at least until the Imps play their game in hand.
Paul Tisdale's line-up to start the game saw just one change, with centre back Joe Walsh out with an injury he sustained against Brighton & Hove Albion Under-21s earlier in the week.
Baily Cargill had an early effort, heading a Dean Lewington corner just wide after deflecting off a teammate just two minutes into the game.
The visitors then began to bring the playing field level, with a few chances of their own.
Chuks Aneke drilled a shot over the bar before Rhys Healy had a stunning volley shot from the edge of the edge go wide.
The Dons thought they had claimed a 1-0 lead when Kieran Agard put the ball expertly beyond O'Hara – but was deemed to have been offside when collected a pass before his shot.
A second would-be goal was also cancelled out for a foul of the Macclesfield goalkeeper, with George Williams believing to have headed the home side in front.
While the score was 0-0 at the break, the Dons came out stronger in the second and began to take over the game.
Seven minutes after the teams returned in the second half, the Dons took the lead thanks to top goalscorer Aneke.
Aneke took the ball at the edge of the area, turned on to his left foot and curled the ball beyond O'Hara into the top of the far-side corner.
The Dons began to truly control things from here on out, with a number of shots and attacking opportunities coming their way.
Kieran Agard, beating the offside trap, managed to pick up a clean pass from Alex Gilbey before charging towards goal and slotting the ball just underneath O'Hara to give the Dons a two-goal lead.
The Dons could have made it 3-0 when Dylan Asonganyi had a close-range shot fly just over the crossbar late on.
Macclesfield continued to fight back throughout the remainder of the game, but it wasn't enough to break the home side.
But the Dons held firm and claimed all three points, their tenth league victory of the season.
Despite a strong performance that saw his side almost score four unanswered goals, manager Paul Tisdale had a grounded view of the win.
He says: "We knew today wouldn't be a walk in the park, Macclesfield had a real purpose about them."
"We predicted it would be about the hour mark, there's only so long a team can hold that kind of focus and we just thought – one goal."
"We didn't want to take too many chances first half, we didn't want to shoot ourselves in the foot so yeah, really pleased."