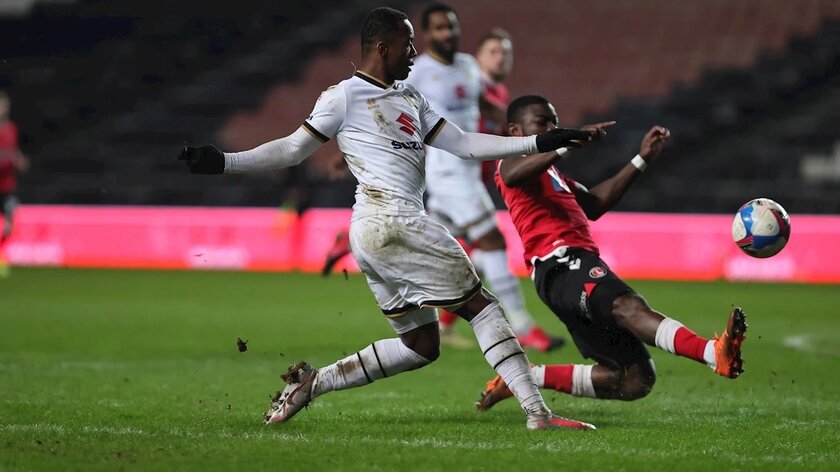 Image Credit: Milton Keynes Dons Football Club
Milton Keynes Dons boss Russell Martin believes there is more to come from loan signing Ethan Laird after he has settled in well at the club.
The 19-year-old Manchester United youth product has been a bright spark on the right side of the pitch for the Dons and, on paper, had an impressive game against Charlton Athletic last night.
Per WhoScored, Laird won six aerial duels in the match, put in three tackles and even had two shots during the match, but Martin believes he can do more as he continues to settle and adapt to his role at the club as well as League One football.
Speaking after last night's 1-0 loss, Martin commented: "I think he's got a lot more to come, I was actually disappointed in him in the final third at times. He showed glimpses, I think he's got a lot more to come."
"I think he's getting up to speed with the intensity of League One games and what it's going to take, but he's shown real glimpses of outstanding ability."
He continued: "The next test for Ethan is consistency, doing it on a consistent basis, and really understanding what it's going to take to be a top player at this level, because he can be, there's no doubt about it."
"He can be really exciting and really explosive and powerful and tonight, I said it to him as well at half time, he had more opportunities to be really aggressive with it and sometimes chose the safer option."
"But, he's going to be a very good player for us, I've been really happy with him. We have to be honest with these guys and try and push them to be better and better."
He added: "Tonight, he has a really big chance, and it's probably why I'm saying I'm disappointed, it's the one big chance we have in the game and he can't quite get there and convert, which is disappointing and unlucky."
"He's shown glimpses and he'll get better and better, there's no doubt about it. He's another one who's not had much work with us on the training pitch because of the games and when we did have a bit of free time he was carrying an injury that he's just got over."
He concluded: "He'll get better and better and he'll be great for us."