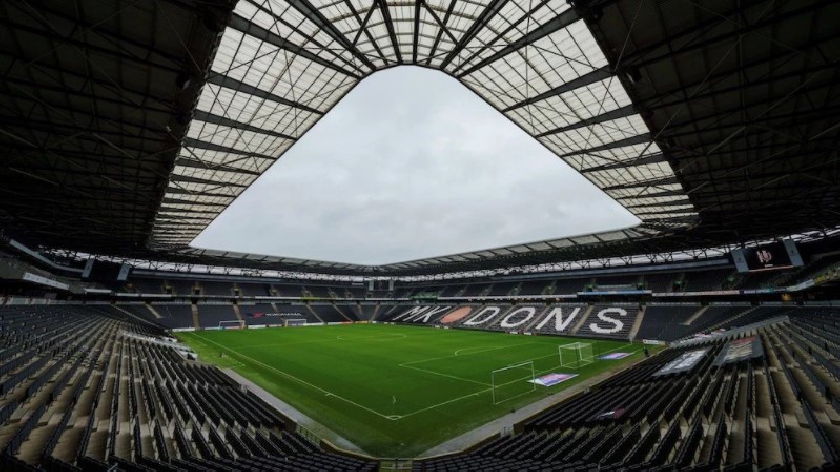 Image Credit: Milton Keynes Dons Football Club
Milton Keynes Dons manager Russell Martin has said the team's five consecutive games on the road could be a blessing in disguise for the pitch at Stadium MK.
Much has been said, particularly on social media, of the state of the pitch at the Dons' home ground, with the annual turf relaying unable to take place this year due to the Coronavirus pandemic, which has left it looking worse for ware as the team enters the new year.
With the Dons' style of play best suited to a smooth surface, Martin has praised his players for working through the difficult conditions while outlining a plan is in place for the pitch to receive some much-needed treatment over the next three weeks.
The five consecutive games away from Milton Keynes kicks off tomorrow against Swindon Town, with the Dons not playing at Stadium MK again until January 19th, when Fleetwood Town travel to MK1.
Speaking of the pitch and the upcoming spell on the road, Martin commented: "Credit to the players for being able to play the way they do on that surface."
"With the way we play as well, it makes it doubly difficult but the ground staff are working very hard here to put that right."
He added: "They've worked with Andy Cullen to put a plan in place and in the next three weeks should really help the pitch."
"I'm not expecting miracles, we're not going to come back and it be a perfect lush lawn but we hope it's certainly going to be better than it is now."
He continued: "So this break, although it's five away games on the bounce, which is not ideal because we've been good at home, it's not perfect but at the same time it gives us a chance to rest the pitch, which is definitely needed."
"Hopefully we'll come back to a better surface. Everyone's been disappointed in it, of course, but we can't use it as an excuse, we have to adapt and there will be other surfaces that will be similar I'm sure."
He concluded: "It could be a blessing in disguise for us and we have to make sure we pick up results and put in performances away from home like we have done at Sunderland and Charlton."