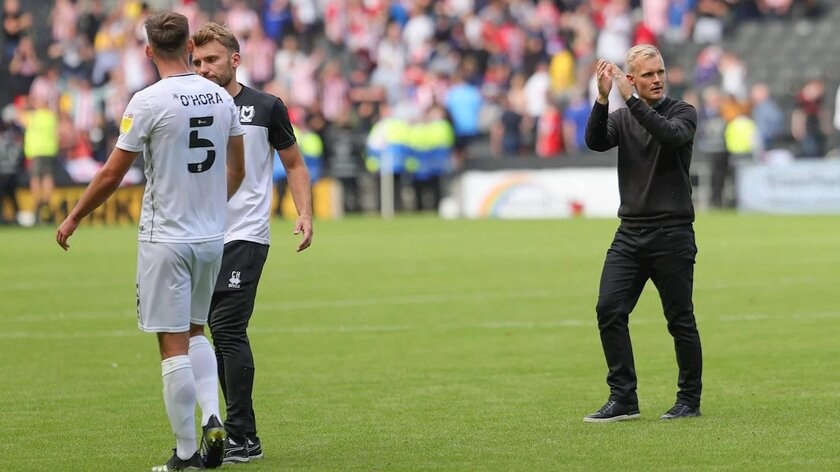 Image Credit: Milton Keynes Dons Football Club
New Milton Keynes Dons head coach Liam Manning doesn't see the need to overhaul things at the club, with much of what is in place with the squad fitting with his own philosophies.
Managers, or head coaches, come and go in football and often with them comes significant changes to the style of play seen out on the pitch, but Manning does not believed drastic changes are needed in his new role.
The Dons have implemented an attack-minded, possession-driven style over the past year and were able to climb up to 13th in League One just a season after narrowly avoiding relegation.
Much of how the squad plays, and how it is composed, suits Manning perfectly fine and he will look to take what is in place and build on it with elements that he believes in.
Speaking at his first press conference with the media today, Manning provided some insight into what he's looking for out of his team.
He explained: "I think that was another attraction. When you look at the style that was played last year, I think there are so many things that align with how I see the game."
"I'm not coming in and thinking it's a complete overhaul, which I think is a completely different challenge, I think it's just putting my spin on certain things."
He continued: "I want us to dominate the ball, I want us to control possession but I want there to be a real purpose to it."
"When I talk about purpose it's not always about attacking or scoring goals, which is obviously huge, but it might be managing a game where we're one-nil up let's rest on the ball a bit."
"It might be we've not had the ball for five minutes, we've been sat in a block, let's calm things down and get some momentum back, let's get some structure and shape by keeping the football."
"I think it's working really hard to educate the players, yes we want to dominate possession but why? Teach them the 'why', spend time teaching them 'why', so I think that will be a big thing and then out of possession just intensity.
"Whether we're in a block let's be intense with our block, whether we're pressing let's be intense with that, and ultimately score some goals."
He concluded: "I think that, especially when you look at it, fans pay hard earned money to come and watch football and we should try and entertain them, and I think we should work hard to do that."