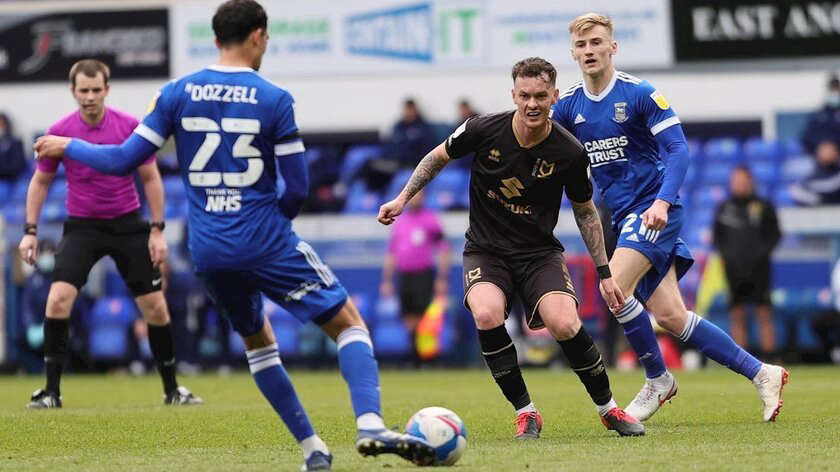 Image Credit: Milton Keynes Dons Football Club
Midfielder Josh McEachran is back for more with Milton Keynes Dons after signing a new contract with the club.
The 28-year-old originally joined the Dons on a short-term deal late into last season, making 14 appearances at Stadium MK, and had an instant impact as Russell Martin's side came close to finishing in the top-ten of League One.
The former Chelsea, Brentford and Watford man has a wealth of experience, with over 200 appearances for clubs in the Premier League, Championship and the Eredivisie (top tier in the Netherlands), and will now continue to marshal the centre of midfield at Stadium MK alongside the likes of David Kasumu.
Speaking of his decision to return to the Dons, McEachran said: "I'm really excited to be back. It's been a long few weeks, getting things sorted, but I'm delighted to be here again and I'm excited for season ahead."
"This was a perfect fit for me last season and I was able to come in, get 14 games under my belt and help the team finish the season strong. I absolutely loved my time here so it was a no brainer to come back here."
"Unfortunately, I suffered with Covid this summer which has meant I've only just been able to start my pre-season training."
He concluded: "It will take me some time to get up to speed but, week by week, I'm feeling fitter and stronger – hopefully it won't be too long before I'm back on the pitch."
Speaking of McEachran's return, Martin commented: "We're really pleased to be able to keep Josh at the Club. We all know how good he is from what he was able to do last year – he is a fantastic footballer who was getting better and better every week."
"We will have to get him back into a top physical condition over the next few weeks before he'll be able to add to us on the pitch. Once he's back, I've no doubt that he'll give us that control and confidence in the middle of the pitch."
Sporting Director Liam Sweeting added: "This is excellent news. We're delighted Josh has re-signed with us as we have seen first-hand his ability to provide control, structure and ability to progress our attacks from a deep position."
"Collectively, we will have to be patient as Josh goes through his return to training but we very much look forward to watching him dictate proceedings at Stadium MK again soon."