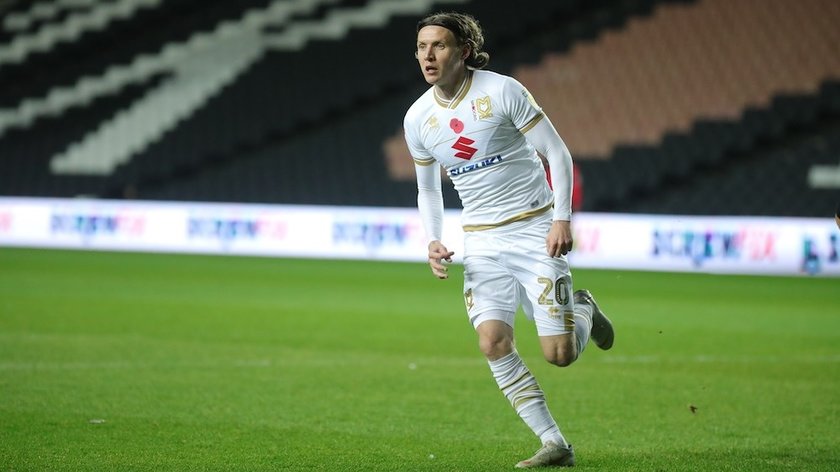 Image Credit: Milton Keynes Dons Football Club
Milton Keynes Dons have today confirmed that Joe Mason has signed a new deal to return to the club for next season.
The 29-year-old striker had been out of contract since the end of last season, having originally joined the Dons last summer.
The former Republic of Ireland Under-21s international had a difficult spell last time out largely due to injuries but showed what he is capable of when he scored three goals in 13 league appearances - four goals in all competitions.
He, along with Callum Brittain, were players that Dons boss Russell Martin had expressed hope at re-signing this pre-season, even expressing hope for positive news at this morning's press conference.
Now that Mason is officially locked up, Martin commented: "I'm delighted to be able to bring Joe back to the Club."
"I made no secret of my desire to keep Joe with us and I'm pleased things have worked out to the point where we can bring him back into the squad, in time to get ready for the new season."
He concluded: "He feels like a new signing for me. We saw what a good player he can be last season but I believe we'll be getting a fitter and sharper Joe Mason this time around. I can't wait to get back to working with him."
Speaking of his return to the club, Mason himself commented: "I'm over the moon, I spoke to Russ quite a lot over the Lockdown and he made it quite clear that he wanted me to stay."
"It was important that the Club got itself in a safe position first, but now I'm happy it's done and it's great to be back."
He added: "Up until last season got cut short, I was really enjoying my time here. For me now it's about staying injury-free and showing what I can do."