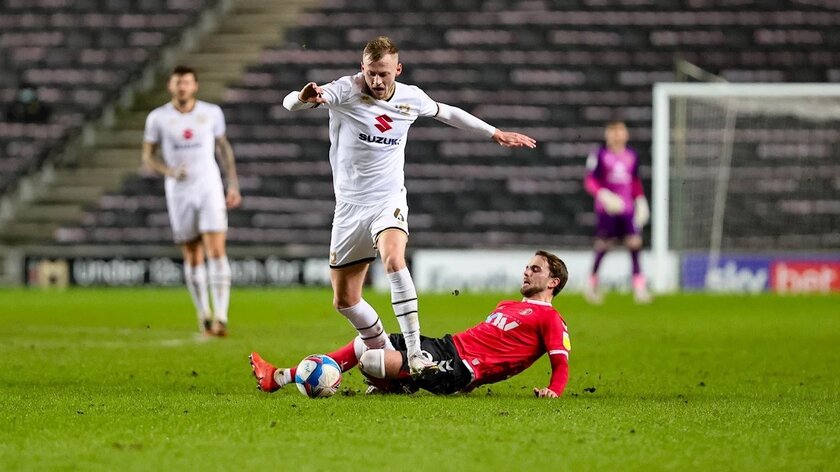 Image Credit: Milton Keynes Dons Football Club
Harry Darling has spoken of his enjoyment at playing for Milton Keynes Dons, having been named the club's Young Player of the Year on Friday.
The 21-year-old Darling joined Russell Martin's side during the January transfer window and has made an immediate impact on the team's back-three, playing a key role for the side as he has established himself as a reliable starter.
Ahead of the team's final match of the season, Darling already sits in 22 league appearances for the Dons this season and projects to be a crucial defensive player for the club for many seasons to come.
Speaking exclusively to MKFM after being named Young Player of the Year, Darling commented: "I'm delighted, I only came in January so I've really enjoyed my time so far."
"I think a lot of credit has to go to the staff, especially Russ and Lukey [Williams], for how much time they have spent with me, especially at the start, both on and off the pitch."
"Obviously, with the way we play, we need so much detail and right from the start they made me feel welcome, they gave me the detail that I needed to play well, so massive credit to them and all the other boys as well for helping me settle in."
Darling moved to Milton Keynes from his hometown club of Cambridge United, where he had progressed through the youth ranks and established himself as one of the best centre backs in League Two.
When asked about his time at the club so far, Darling explained: "It's been really good, I haven't got a bad word to say about the club. It's going in the right direction, everyone can see that especially with the way we play as well."
"I think it's just nothing but positive things, hopefully next year we can have a really positive year again."
"I think the way we play, we are certainly building towards something. I feel like it's just such an enjoyable way to play, and credit to Russ for making that his style and getting everyone to buy into it."
"I just think it's a really enjoyable system to play in and every day you look forward to coming to training, and we've got such a good group of lads as well, which makes it even better."
When looking ahead to next season, which should have fans returning to stadiums, Darling said: "I'm buzzing, we are building towards something and I feel we've ended this season strongly and hopefully next year we can go again to push for them top spots and see where we end up."
He concluded: "It's not the same compared to when fans are in, it's such a different game when fans are in, it adds that little bit more on match days. Definitely excited to see them back, obviously I haven't experienced it yet, but excited to see them next season."