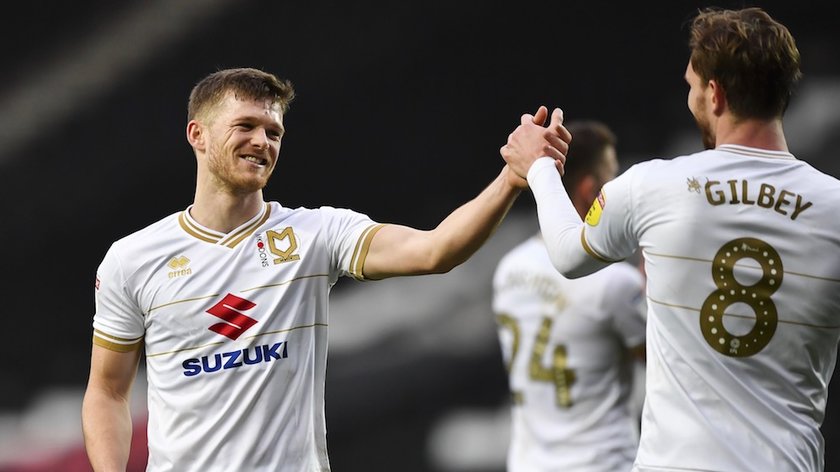 Image Credit: Milton Keynes Dons Football Club
Milton Keynes Dons held a virtual end of season awards ceremony yesterday (Friday 26th June) thanks to the help of MKFM.
The awards rearranged to be held digitally and hosted by MKFM's own Darren Dorrington, celebrated players and fans alike after the culmination of the 2019/20 football season for both the men's and women's teams.
Alex Gilbey and Rhys Healey were the big winners on the night, with the former snapping up the top prize, Player of the Year, for a second consecutive season, only the second player in Dons history after Luke Chadwick (2009 - 2011), while also seeing his excellent strike against Gillingham named Goal of the Season.
Healey, meanwhile, finished the season as top goalscorer thanks to his 12 scores and was also named Players' Player of the Year after an impressive first full season at Stadium MK.
Jess Driscoll was named Women's Player of the Year after an impressive debut campaign for the Dons.
Player of the Year - Alex Gilbey
Alex Gilbey reacted: "I'm absolutely chuffed, a proud moment for me and thank you to the fans who voted for me."
Players' Player of the Year - Rhys Healey
Healey commented: "I'm surprised I've won it to be fair but it's an award I've always wanted to win so I'm grateful for it."
Media Personality of the Year - Jordan Houghton
Houghton said: "It's good to be able to communicate well with the media because at the end of the day we want [them] on our side."
Team Performance of the Year - 3-1 victory vs Portsmouth (Home)
Goalkeeper Lee Nicholls, who made a number of crucial saves in that match, commented: "I think that game was the one where it really clicked for us and the way Russ wanted us to play came out."
Goal of the Season - Alex Gilbey (vs Gillingham)
Gilbey said: "I just thought, I need to make something happen here and luckily I tried to flick it over my own head and it came off and I managed to finish it. I'm chuffed with the goal and really happy to win."
Top Goalscorer - Rhys Healey
Healey commented: "As a striker, you want to score goals and I was lucky to do that this season. The start wasn't the best with me getting injured but I hit the ground running but I'm gutted it ended early as I wanted to get more goals. But I'm happy with what I contributed."
Fan of the Year
Charlie Carr
Young Fan of the Year
Mylee Baker, Joe Berridge, Dylan Wise
Disability Player of the Year
Keith Coltart
MKDSA Young Player of the Year - Sam Nombe
Nombe reacted: "It's definitely pleasing to hear that I've won an award like this, it's definitely a great feeling to come through all the ranks, through the academy and means I can carry on pushing forward."
Academy Player of the Year - Finlay Brennan
Brennan said: "I'm very privileged, I've had a great two years. I'm very honoured to have received it."
"I've loved every minute of it, I've learned so much, I owe the club a lot. It's really put me in a good position for where I want to be next year, what I want to do and I've loved my time at the club."
Woman's Player of the Year - Jess Driscoll
Driscoll commented: "I'm really happy, it's something that I didn't really expect to win or even think about winning."
Community Ambassador - George Williams
Williams commented: "It is really important, to be honest, the community means a lot to us as a club and I think it's important that we play a big role in that, whether it's going to schools or different communities and just show our faces there."
"It's important, so to be recognised for the work I've done it means a lot."