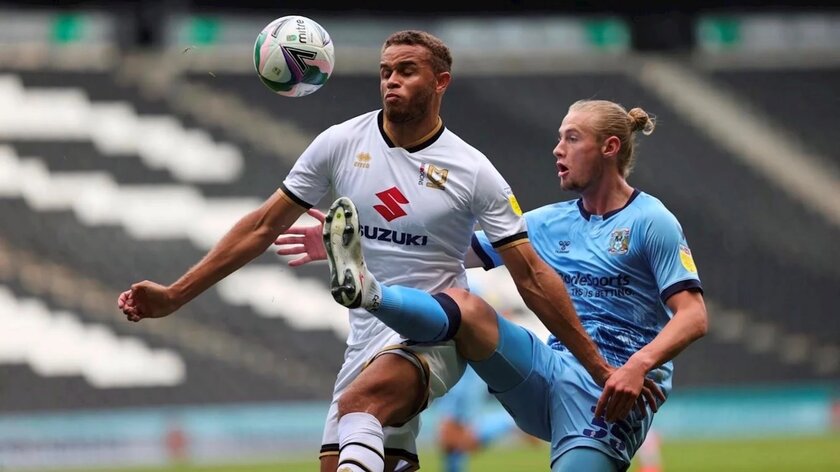 Image Credit: Milton Keynes Dons Football Club
Milton Keynes Dons boss Russell Martin has said Carlton Morris will be a loss to the club if his proposed move to a Championship club goes ahead this January.
Morris had reportedly attracted the interest on Barnsley a few weeks ago, with the Dons manager confirming that the Norwich City player has been in talks over a move to a Championship club when the January transfer window opens.
In 18 league matches for the Dons this season, Morris has netted three goals while adding a further two assists, providing plenty of support in the attacking third for the Milton Keynes club.
With the deal looking more and more likely to go ahead, Martin has commented on the impact his departure would have on the club and the dressing room.
Speaking at today's press conference, Martin commented: "I can't sit here and lie and say that he's not going to be missed, because it would be lying."
"The players will feel him gone in the dressing room, there's no doubt about it because he plays a really important part as a leader in this group in what we're doing."
He continued: "He's been really frustrated he hasn't scored more goals, but even if he doesn't score he plays a huge role in terms of bringing others into the game."
"You saw the connection him and Scott [Fraser] had in particular, playing in and around the opposition box, and him and Cammy [Jerome] have been really starting to forge a strong partnership as well."
"So, it's disappointing for us, there's no doubt about it, but you have to adapt in football, especially if a player isn't yours and he belongs to another club, we don't have much of a say in things unfortunately."
He added: "We have to adapt to that, and we did do that on Saturday. We tweaked things, the players adapted brilliantly and we created as many chances as we have all season with the amount of times we got in the opposition box."
"We have to make sure we keep doing that and make sure that if we bring someone in, and of course we're going to try to do that, that they have similar attributes and can contribute as much as Carlton has over the year."
He concluded: "He's going to be a loss, we're going to feel that, but that's football and you have to move on and make sure we replace him, whether that's through tweaking the formation or whether it's through signing someone that can do the job as well as he did."