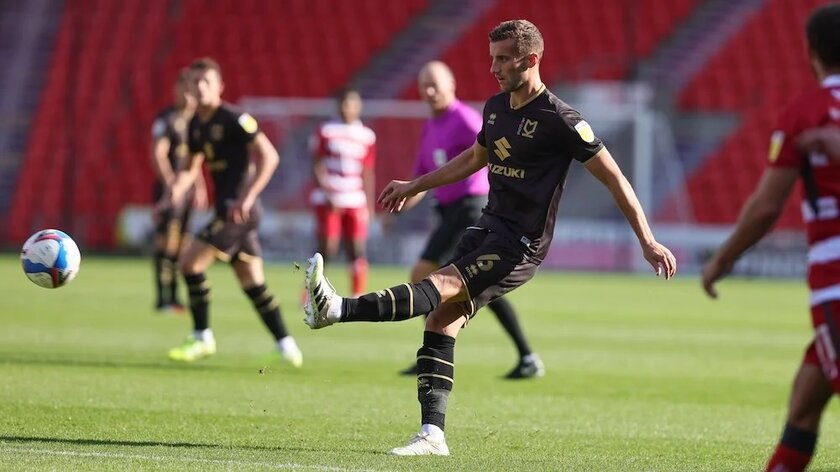 Image Credit: Milton Keynes Dons Football Club
Milton Keynes Dons defender Baily Cargill has revealed that he lost 10kg during lockdown to get himself fit and put himself back in the starting eleven picture at the club.
Cargill made just 12 league appearances for the Dons last season, with his last game in that campaign seeing him handed a 90th minute red card in the 3-2 loss to Rotherham United on November 23rd.
He appeared on the Dons bench sporadically throughout the rest of the shortened season, but never looked likely to get back into the starting eleven under Russell Martin.
Now, however, Cargill appears to be one of the first names on the team sheet and finally scored his first goal for the club to secure them a 1-1 draw away at Doncaster Rovers last weekend, with Martin himself having spoken about how impressed he has been with his progress since last season.
Speaking to MKFM, Cargill has revealed what Martin told him to do to put himself back in the starting eleven picture and how it led to him losing around 10kg to improve his fitness levels.
He explained: "I wasn't in the team in the back-end of last season, I was always going to Russ' office going what do I need to do to get back in the team and he said look you need to go away and look at yourself fitness wise and mentally start believing in yourself more."
"So I really took it seriously and over lockdown it sort of gave me the opportunity to really hone in on that. I went away and I ended up losing about 10kg, which is a lot of weight, and now I just feel so fit and so much better for it so I'm really pleased I got that time."
He added: "Obviously it's been a hard time for everyone but it's really worked in my favour in terms of I've been able to go away and have some time to myself just to really work on my fitness."
Martin has been supportive of Cargill throughout his time in charge of the club and has worked hard to get the former AFC Bournemouth youth product to reach his potential.
Cargill himself is very appreciative of the support Martin has given him, commenting: "I can't actually thank him enough for the people he's put me on to, to speak to, and the advice he's given me that he's obviously had in his career."
"Russ is brilliant, he's been amazing with me even when I wasn't in the team last and he was still there helping me on the training ground."
"He was still really helpful and wanted to try and get the best out of me and I think he's been amazing for me and that's going to help me this season."
He concluded: "I really think he's going to get the best out of my footballing ability, playing under him."