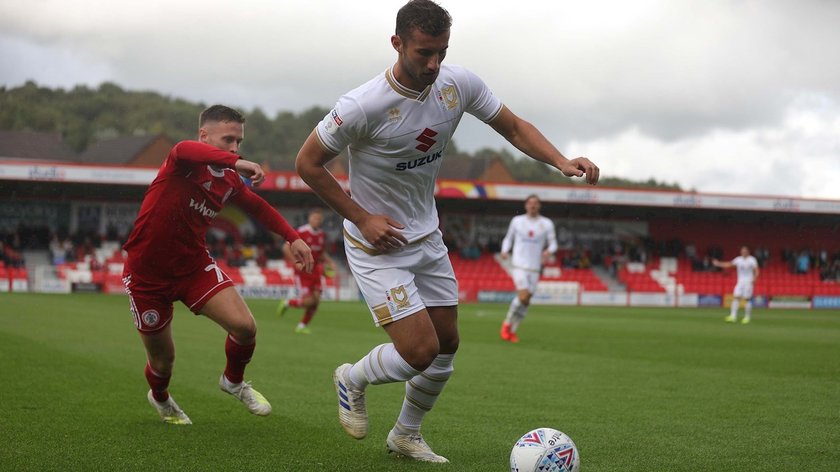 Image Credit: Milton Keynes Dons Football Club
Milton Keynes Dons defender Baily Cargill has returned to a training 'a different player' according to manager Russell Martin.
The 25-year-old found himself on the fringes of the first-team during the 2019/20 season but could be putting himself in line for regular consideration after an impressive return to pre-season training.
Speaking of the season ahead for Cargill, Martin explained: "It's a really important season and Baily's come back looking like a completely different player, completely different person."
"We invested a lot of time in Baily as a person as well as a player and his attitude last year was incredible to extra work, to the challenges that were set to him by me, because I know what he's capable of but we needed to find a way to get it out of him."
"I'm not going to put any extra pressure on him but I'm really excited about Baily this year, I think he could be a huge player for us."
He added: "If he is half of what I think he is, then we'll see the best of him this season and playing in a way that really suits him."
"I'm looking forward to it. I've noticed a massive change, I think everyone has, in Baily physically and mentally and I just want us to get the best out of him this season."
"I'm really confident we will because he's a huge member of the squad in terms of his personality and his character. He's a huge asset for us in terms of the way he trains, his attitude to training every single day."
"He's another one I've really seen [his] habits, [his] day to day habits have just improved and improved and you look at [him] now. Great professional, physically in the best shape of his life, there's no doubt about it so hopefully that all adds up to a good season."
He added: "He's aware of how important it is for him personally so I'm really looking forward to seeing what Baily Cargill can bring this season."
At times last season, Cargill was often an afterthought on match days, finding himself not even included on the bench, but this did not deter him and his dedication to proving himself.
Speaking on this, Martin said: "I think whenever you get challenged by someone in life, whether it's in your profession or personally, and I've done a bit of both with Baily if I'm honest, you either rise to it or you go under."
"He's not surprised me by his reaction to it all but he had to be extremely patient last year. He was just chomping at the bit, he didn't sulk once, he understood why and his whole mentality was about proving he deserved a place in the team."
"There's no doubt in Baily's ability as a footballer, there's no doubt in him as a person, I just challenged him on a few things about how he could get back into the team, why he wasn't in the team at the time and he completely understood and took it really well."
Martin concluded: "He just came back and hasn't surprised anyone with the way he's come back this pre-season. He looks incredible and the first week he's been really strong so I'm hopeful we can continue that."