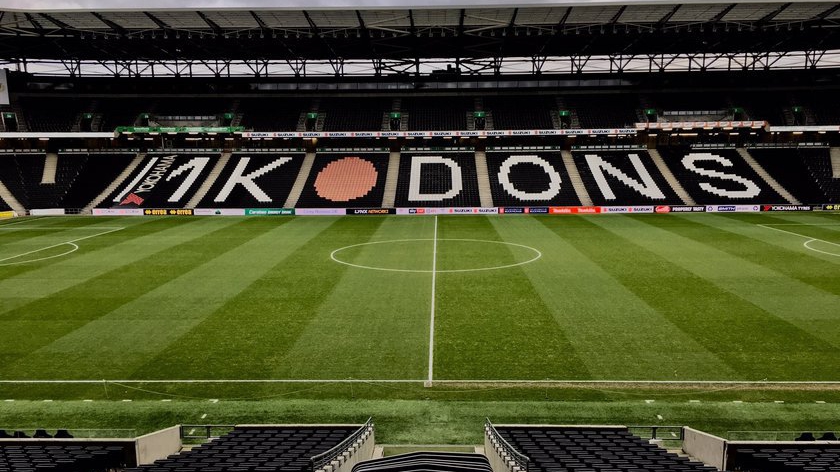 Image Credit: Milton Keynes Dons Football Club
Milton Keynes Dons executive director Andy Cullen has explained that the club is working to bring around 7000 fans into Stadium MK once the government gives the green light for fans to return.
The first portion of the 2020/21 season will be played behind closed doors due to the ongoing Coronavirus pandemic, with clubs looking towards October as the time when the government is hoping to allow fans back into stadiums.
Teams will be limited to a certain percentage of fans once they do return, based on the capacity of their stadiums, which puts the Dons in a strong position to have decent crowds once things start opening up again.
Speaking on MKFM's Breakfast Show, Mr Cullen explained: "Well as things stand, 1st October is the date the government have said crowds will be able to return to football, albeit in limited numbers."
"We've done a lot of preparatory work on that and we think we can roughly get about 7000 into a stadium with a capacity of 30,000, properly social distanced, people sitting within the bubbles that the government have obviously outlined in the guidelines ."
"All those protocols are in place to make sure that people can come back and be able to watch."
He added: "The good news for us is that we should be able to accommodate every single season ticket, so if you have a season ticket you're virtually assured of being able to find a seat in Stadium MK."
"It may not be your normal seat, and that's one of the challenges and difficulties that we have to face at the moment but I'm delighted that we're working with a group of sixteen supporters who we've already had one consultative meeting with to discuss the plans."
"They've come up with not only some positive feedback but a number of good suggestions that we might look at."
He continued: "We've got another meeting with them next Wednesday evening to go onto the next stage and communication is going to be absolutely critical on this one so everybody knows what is expected of them."
"I think every supporter at every football club is going to be required to sign up to a code of conduct when they come into the stadium, but these are all things designed to make football safe."
He concluded: "That's something that's very much on the horizon and that we're very much looking forward to and, touch wood, there'll be nothing in the way between now and 3rd October and that first game we can bring people back into the stadium."