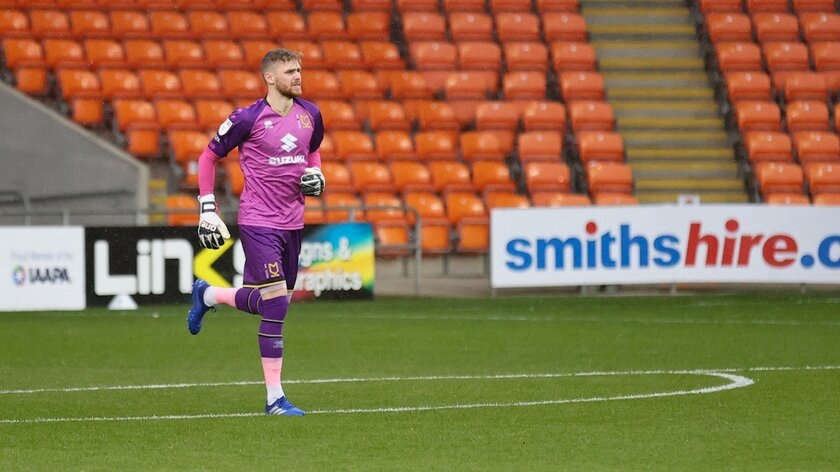 Image Credit: Milton Keynes Dons Football Club
Goalkeeper Andrew Fisher could be in line to return for Milton Keynes Dons in the club's League One opener against Bolton Wanderers next week.
The incumbent first-choice between the sticks for the Dons suffered an injury earlier in pre-season, seeing Franco Ravizzoli and Laurie Walker both earn minutes in recent warm-up matches.
Ravizzoli is likely to earn the start later today for the club as they take on AFC Bournemouth in the first round of the Carabao Cup, but Fisher is close to returning to fitness and could be ready to earn back his starting role when the Dons travel up to Bolton next Saturday.
Russell Martin confirmed the positive news at yesterday morning's press conference, stating: "He's back running, he'll be back doing goalkeeping stuff on Monday, catching and all that. He'll be fit and ready for Bolton."
While Fisher could be healthy enough to play a week from today, he will be pressed to prove he is 100% ready, with some positive performances coming from the players below him in the pecking order potentially giving the club some tough decisions to make.
Martin spoke of this situation further, explaining: "In the meantime, if Franco performs how he does and Laurie performs how he did on Wednesday night, whoever gets the nod tomorrow then Fish is going to have a battle to get back in as well."
"It's great for us, there's competition so really pleased that both goalies performed so well on Wednesday, in particular Franco because he played longer, in his first game in front of a crowd that big."
Whoever is named the starter for the team's league opener, Martin is satisfied with the strength of options available: "So, really pleased with that and, as I said, another department that is in really good order and strong is the goalkeeping one."