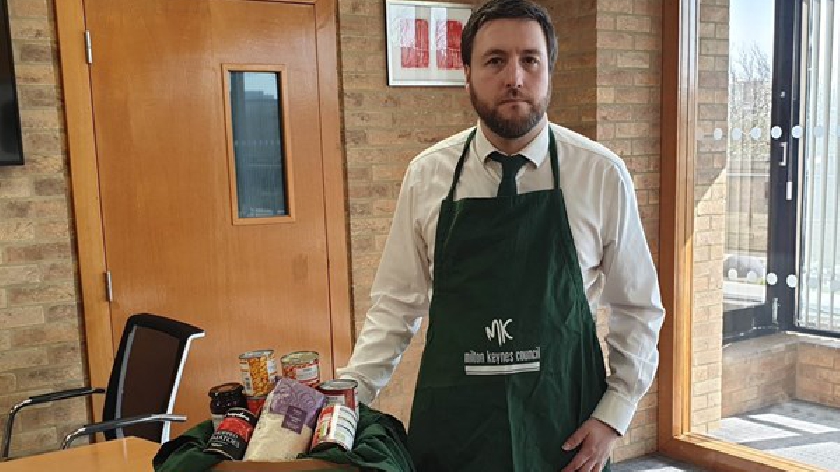 Milton Keynes Council and MK Food Bank have teamed up to offer more help to local people in crisis during coronavirus pandemic.
Under the banner 'Food Bank Xtra' the Council is supporting MK Food Bank with additional staff and a new, larger distribution centre to ensure it has the right resources to cope with the additional demand expected during the Coronavirus outbreak. Work is also underway to add new collection points to the Food Bank's network so it can bring the food closer to people in need.
The demand for MK Food Bank's emergency food service continues to increase, with more than 14,000 food parcels being distributed in 2019 to people in crisis. Around 154,000 items were donated from local communities and additional collections in local supermarkets.
The two organisations are now launching an urgent appeal for donations, and asking those in need to contact them through a new Food Bank Xtra Helpline.
To donate:
The latest Government rules state you should remain at home unless shopping for food, medicine or traveling for essential work. Food Bank Xtra asks everyone to follow these rules when considering when and how to donate, and to follow national guidance on social distancing when donating your items. If you already have a social media group set up among your neighbours, with a rota for shopping, you may even want to pool ideas on how to donate.
You can donate at:
Supermarkets - Most supermarkets have an official Food Bank collection bin. These include ASDA, the Co-op, Morrison's, Sainsbury's, Tesco's and Waitrose.

Saxon Court - Food can also be dropped off at the main reception at Saxon Court, 502 Avebury Boulevard, Milton Keynes MK9 3HS between 10:00am and 4:00pm Monday to Friday. There is no need to call in advance. If you need to arrange a specific time to drop off donations, or would like to donate a large amount of food, please call 01908 322800.
Please do not bring donations to Serving Centres.
Food Bank Xtra is in need of:
Long life cartons: milk - whole or semi-skimmed, fruit juice.

Tinned: spaghetti, custard, rice pudding, fruit, vegetables, baked beans, pulses, meat, fish, tomatoes, soup .

Jars: spread (jam, peanut butter, marmite etc.) and pasta sauce.

Packets: soup, noodles, dried pasta, pulses and rice (500g or smaller), biscuits.

Breakfast cereal or porridge oats (500g packets or smaller).

Tea bags.

Sugar.
Food Bank Xtra is also accepting donations of nappies, sanitary towels, baby formula, toilet rolls and soap. However, Food Bank Xtra can't accept anything fresh, so please do not donate these items.
If you can't donate food but would still like to help, you can still make a financial donation. There are two ways you can donate.
To Get Help:
Just like the usual Food Bank support, Food Bank Xtra is specifically for people who receive benefits, free school meals for their children, who are in severe debt or crisis, are unemployed, homeless, or at risk of homelessness and other similar vulnerable situations.
You can access Food Bank Xtra by visiting one of the main Serving Centres or by contacting the Food Bank Xtra Helpline on 01908 565852 between 10am and 4pm Monday to Friday, to discuss your situation in confidence with experienced staff.
Service Centres opening hours:
Melrose Centre, Bletchley – 9:00am – 11:00am (Mon-Fri)

Milton Keynes Christian Centre, Oldbrook – 11:00am – 1:00pm (Mon-Fri)

King's Community Centre, Wolverton – 1:00pm – 3:00pm (Mon-Fri)
Work is also underway to establish new Serving Centres across MK to make is as simple as possible for people to get access to food.
You will need to bring ID to the Serving Centre for every family member.If someone is collecting on your behalf, they will need to bring your ID. You will also be required to provide evidence of eligibility.
Social distancing measures will be followed at all Serving Centres.
Council Leader Pete Marland said: "We wanted to step up at this particularly difficult time to help the most vulnerable people who are struggling to get enough to eat for themselves and their families. MK Food Bank does a fantastic job to help local people and so working with this trusted partner was the obvious choice.We're helping out with resources and many council staff have also volunteered to be part of Food Bank Xtra so we can give it a big boost.If you can donate, please do, while staying safe and following all official advice."
Director, Fola Komolafe said: "For over 15 years, MK Food Bank has been committed to helping families and individuals in crisis put food on their tables – and now more than ever, it's important that we do all we can to make the biggest positive impact. Responding to this crisis is a team effort and we're so grateful for Milton Keynes Council who have given an initial support of staff and premises to make this project possible. Together, we'll be able to ensure that food gets out to the most vulnerable as soon as possible. The best way you can help fuel our response to this crisis, is to donate. If you can, please consider giving and follow the latest Government guidance to stay safe."
To find out more please visit www.milton-keynes.gov.uk/foodbankxtra