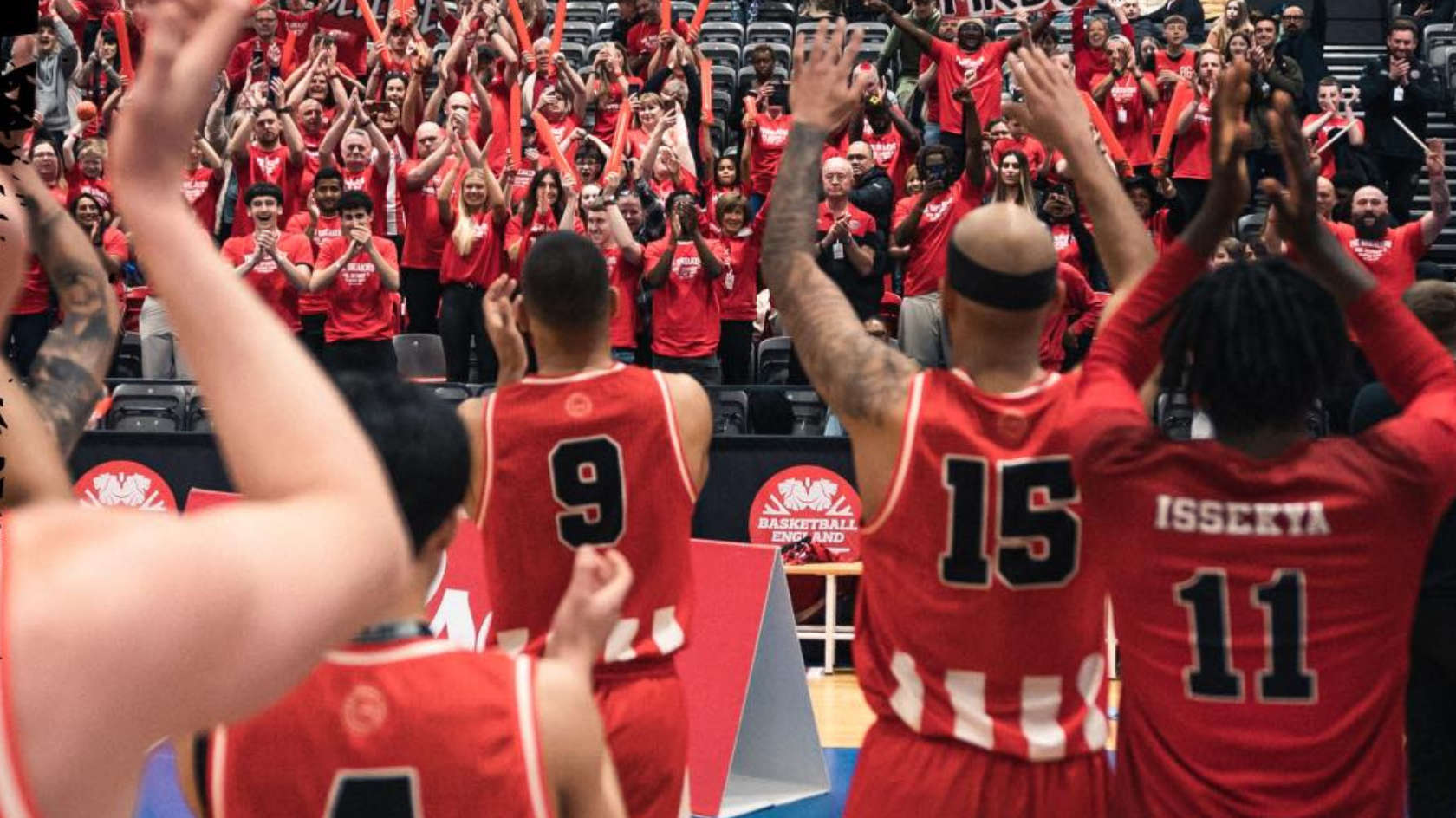 Following a successful 22/23 season for the MK Breakers Senior Mens team, season tickets are now available for 23/24.
Fixtures have been released for the MK Breakers Senior Mens 23/24 season.
Last year, the MK Breakers completed a perfect debut season in the Senior National Basketball League, demolishing the UEL London Lions 113-67 in the NBL Division 3 Playoff Final.
Season tickets and more are now on sale for the 2023/24 season and available here via Lokkaroom.
10/09/2023
17:00
Milton Keynes Breakers
vs
London Elite
Bletchley Leisure Centre
17/09/2023
17:00
Milton Keynes Breakers
vs
Nottingham Hoods
Bletchley Leisure Centre
23/09/2023
19:30
COB Rockets
vs
Milton Keynes Breakers
Nechells Wellbeing Centre
24/09/2023
18:00
Loughborough Riders
vs
Milton Keynes Breakers
Netball Centre, Loughborough University
30/09/2023
17:00
Milton Keynes Breakers
vs
Richmond Knights
Bletchley Leisure Centre
07/10/2023
17:00
Milton Keynes Breakers
vs
Team Solent Kestrels
Bletchley Leisure Centre
8/10/2023
17:00
Milton Keynes Breakers
vs
Northampton Mavericks or Chelmsford Charge
Bletchley Leisure Centre
14/10/2023
17:00
Milton Keynes Breakers
vs
Cobham Cobras
Bletchley Leisure Centre
21/10/2023
17:00
Milton Keynes Breakers
vs
Ipswich Basketball
Bletchley Leisure Centre
29/10/2023
17:00
Oaklands Wolves
vs
Milton Keynes Breakers
Oaklands College
04/11/2023
17:00
Milton Keynes Breakers
vs
Baltic Stars Medelynas
Bletchley Leisure Centre
11/11/2023
13:00
Westminster Warriors
vs
Milton Keynes Breakers
Moberley Sports Centre
18/11/2023
17:00
Milton Keynes Breakers
vs
NASSA
Bletchley Leisure Centre
25/11/2023
14:00
Cardiff Met Archers
vs
Milton Keynes Breakers
Cardiff Metropolitan University
02/12/2023
15:00
Greenwich Titans
vs
Milton Keynes Breakers
Crown Woods College
09/12/2023
17:00
Milton Keynes Breakers
vs
Brighton Bears
Bletchley Leisure Centre
16/12/2023
18:00
Richmond Knights
vs
Milton Keynes Breakers
Waldegrave School for Girls
06/01/2024
13:30
Team Solent Kestrels
vs
Milton Keynes Breakers
Solent Sports Complex
14/01/2024
14:30
Cobham Cobras
vs
Milton Keynes Breakers
ACS Cobham International School
20/01/2024
18:00
Endeavour Ipswich Basketball
vs
Milton Keynes Breakers
Copleston Sports Centre
27/01/2024
17:00
Milton Keynes Breakers
vs
Oaklands College Wolves
Bletchley Leisure Centre
03/02/2024
17:00
Baltic Stars Medelynas
vs
Milton Keynes Breakers
ACS Cobham International School
10/02/2024
17:00
Milton Keynes Breakers
vs
Westminster Warriors
Bletchley Leisure Centre
17/02/2024
16:00
NASSA
vs
Milton Keynes Breakers
UEL SportsDock
24/02/2024
17:00
Milton Keynes Breakers
vs
Cardiff Met Archers
Bletchley Leisure Centre
02/03/2024
17:00
Milton Keynes Breakers
vs
Greenwich Titans
Bletchley Leisure Centre
09/03/2024
17:00
Brighton Bears
vs
Milton Keynes Breakers
Sir Robert Woodard Academy

13-14/04/2024

Playoff Quarter Final

20-21/04/2024

Playoff Semi Final

27/04/2024

Playoff Final
National Basketball Performance Cente
You can find out more about Milton Keynes Breakers Basketball Club here