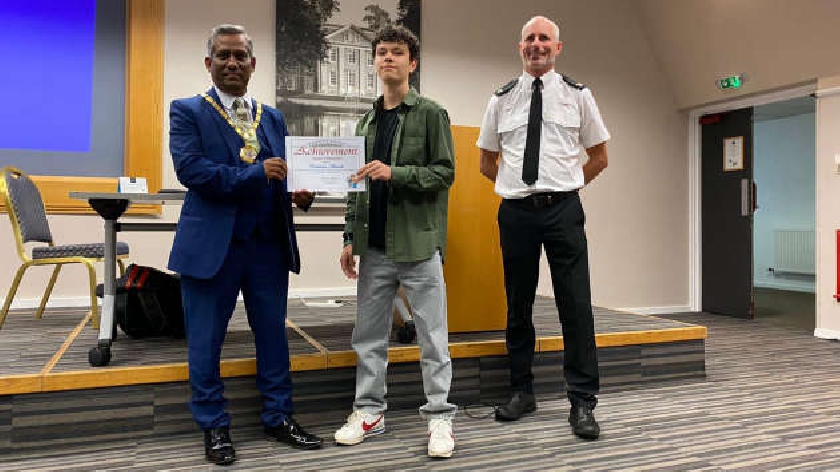 The premiere was held at Harben House in Newport Pagnell on 31st July 2021.
The event was held in memory of Lewis Wenman, a 17-year-old victim of knife crime.
The project was formed by young people with the aim to educate others of the dangers and consequences of knife crime in a bid to discourage its use in Milton Keynes.
The premiere event was organised by Junior Filmmakers with valuable contributions from the L&Q foundation. Junior Filmmakers is an organisation that teaches young people film making skills, preparing them for the creative sector in the future.
The premiere was attended by over 60 people and showed four heartfelt films that highlighted the pain that knife crime brings to society.
The guest panel included The Mayor of Milton Keynes, Mohamed Khan and Superintendent Marc Tarbit, Area Commander of Thames Valley Police. Both guests spoke passionately about the dangers and impacts of knife crime.
The young people were also awarded with certificates of appreciation from the guest speakers.
Matthew Corbett, Director of the L&Q Foundation said: "We've been honoured to support Junior Filmmakers with the Lewis Initiative premiere. The young people who created these moving films have demonstrated real talent, shining a spotlight on an issue which tragically takes so many lives.
"They've made an important contribution to the conversation about knife crime, and the importance of community cohesion, education and opportunity in tackling this. They should be proud of what they've achieved."
READ MORE - Knife crime prevention films created by young people in Milton Keynes to be premiered this month