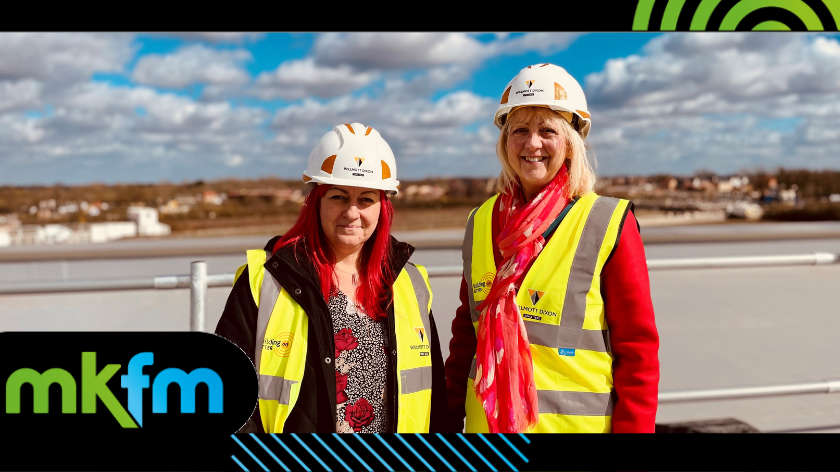 Councillor Zoe Nolan with Vikki Pegg, Headteacher at Watling Primary School
Construction on the brand new Watling Primary School continues with work underway on a modern interior including a large activity hall, 18 classrooms and open plan indoor and outdoor spaces.
The new school is located near Calverton Lane and is the third new primary school in the Western Expansion Area of Milton Keynes, where thousands of new homes are being built.
The school is set to open in September this year, catering for up to 630 pupils, including community sports facilities plus provision for a 39-place full-time equivalent (FTE) nursery.
Constructed by Willmott Dixon, the school has a range of features that will reduce the building's reliance on fossil fuels and save the school money.
This includes intelligent heating controls that react to weather patterns, solar panels and air source heat pumps which absorb energy from the outside air.
The school's layout also means it will receive maximum benefit from natural daylight, reducing the need for lights to stay on all day.
Vikki Pegg, Headteacher at Watling Primary School said:It is such an honour to be the Headteacher of Watling Primary School and to be so actively involved in the planning and preparation of this amazing community development.
"It is wonderful to see the progress on site, particularly as we are now at the stage where we can start to really appreciate what the learning spaces and facilities look like. The excitement is building as we head towards our official opening in September.
Cllr Zoe Nolan, Cabinet Member for Children and Families said: "This wonderful new school is really taking shape and will be a huge asset to the local community. Watling Primary will be essential for families moving to the area who want local, high-quality schools. Our priority is to ensure that we have a good local school which is accessible for every child.
"We also know that by carefully considering the environmental impacts and embracing new technology, this school will be here for many years to come."
The school will be run by the Denbigh Alliance Multi Academy Trust which also runs the nearby secondary school Watling Academy and Denbigh School, located in Shenley Church End.