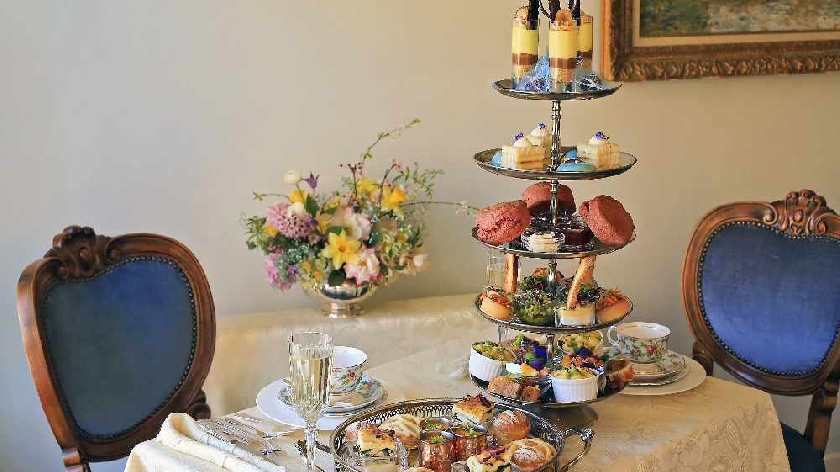 It's one of the nation's favourite traditions and in celebration of National Afternoon Tea Week (10th - 16th August), what better way of showing recognition than the local coffee house taking us back to the origins of the British dining experience.
The English custom of 'taking afternoon tea' was popularised in the 1840s by Duchess Anna Maria, the wife of the 7th Duke of Bedford, who lived at Woburn Abbey. The Duchess entertained her friends at Woburn Abbey, and credited the village with popularising the custom of afternoon tea and even in the court of Queen Victoria. The tradition has since stuck, and now it is something that families, friends, work colleagues and couples do to celebrate.
Karen Best, Proprietress, of the Woburn Coffee House commented: "Back in December 2010, myself and my partner were handed the keys to 21 Market Place - what is now recognised as Woburn Coffee House. The pale blue house stood so proudly in the market place, and when you opened the door you were instantly transformed into a calm electric with memories and history seeping out of every wall and timber plinth. This is where the magic of The Woburn Coffee House was first born."
"We had no idea that we would make it into a home for afternoon tea for guests from all across the country, but it just seemed right. We knew the origin of afternoon tea began in Woburn, and so it was with ease that we decided to open our doors as a coffee house celebrating everything and anything".
Karen and her small team offer a warm and friendly welcome to one of Woburn's favourite boutique coffee houses. It is a great meeting place for friends, family and local villagers to celebrate special occasions. Its elegant decor and romantic ambience make it an ideal venue for not only afternoon tea celebrations, but weddings in the Orangery too. Guests can indulge in the most sumptuous handmade teas featuring savoury canapés, pastries, classics such as the soft English scone, and plenty of bubbles.
Woburn Coffee House are excited to be reopening their doors on Friday 4th September, so to book a table in the heart of the tradition's origin call 01525 290000 or email karen@woburncoffeehouse.co.uk.