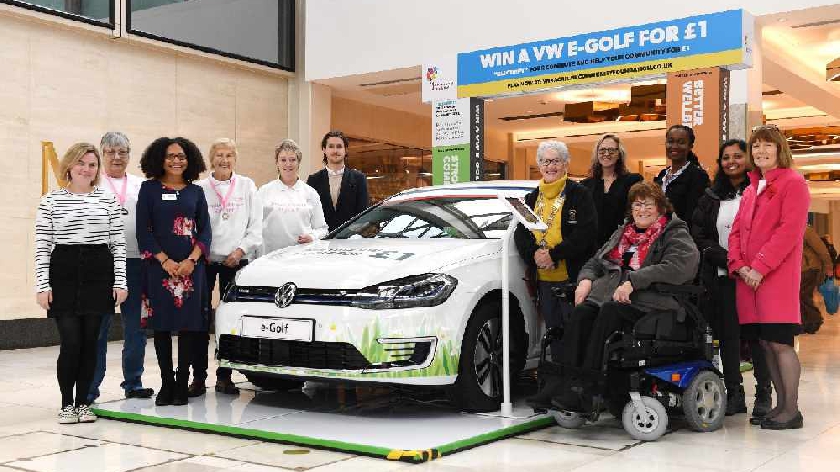 MK Community Foundation has launched its annual car raffle and is giving people a chance to win a Volkswagen e-Golf for a pound by supporting a local community group.
On Tuesday 5th November, MK Community Foundation launched its annual Car Raffle Campaign at the centre:mk. The e-Golf is displayed within the centre:mk and will be displayed until the 6th January 2020.
MK Community Foundation is encouraging people to take part in the car raffle by buying a £1 ticket (or as many as you would like) off of one of the charities and community groups that are being supported by MK Community Foundation, who will be selling online tickets at the car. By buying a £1 ticket, you are automatically entered in the car raffle with the chance of winning a Volkswagen e-Golf.
MK Community Foundation is an independent Milton Keynes based charity. They support local community groups and charities by providing grants. There are three key themes that donations can help, which MK Community Foundation is highlighting within the car raffle campaign:
Stronger Communities: To capture and highlight the qualities that foster a sense of belonging, trust and engagement between local people in rapidly growing and changing environments.
Better Wellbeing: Including physical and mental health of local people and the factors that affect their wellbeing.
Positive Changes: Such as initiatives to support families who would otherwise not be able to engage in valuable and engaging activities.
Rob de Young, Chairman of the Employee Forum, Volkswagen said: "It is a great pleasure for us all at Volkswagen Group UK to be involved once again in this year's raffle. The fund raisers always do an amazing job and it is wonderful to see how the local community benefits from the money raised. Good luck to everyone who buys an online ticket."
MK Community Foundation is working hard to change local people's lives for the better.
Discover more and find out how to enter at: winacar.mkcommunityfoundation.co.uk