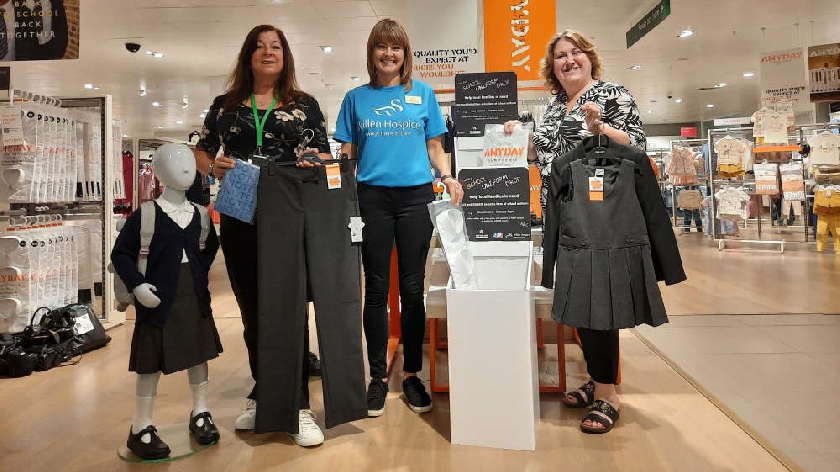 Image: Left to right: Elaine Wales, John Lewis Partnership; Debbie Burns, Willen Hospice; Councillor Jane Carr, Cabinet Member - displaying the donation bins.
Willen Hospice has teamed up with MK Council and local retailers to bring the Big School Uniform Drop to Milton Keynes.
Shoppers and members of the public will be encouraged to buy and donate a spare item of brand new uniform or stationery by placing it into the branded donation bins located in stores.
The new items collected will, in turn, be resold at very low prices in Willen Hospice shops, to make uniform more affordable for local families.
Mark Rawlins, Associate Director of Commercial at Willen Hospice said "We are proud to be working with MK Council who recognise the need for support in the local area and have funded the collection bins. We are also incredibly grateful to local retailers who have made available valuable floor space and in many cases already donated brand new school uniform as part of the drive. Families will be able to buy the donated items from Willen Hospice at a staggering 80% off the original price, to kit their children out in time for the new school year."
Councillor Jane Carr, Cabinet Member for Tackling Inequalities and Child Poverty said "This project will directly benefit children living in poverty, as well as supporting Willen Hospice and may stop some families having to make choices between food or heating. As a child growing up in a single parent household, I understand the stress this time of year can place on families. We are proud to be working with our local partners to ensure that there are more options for parents in Milton Keynes."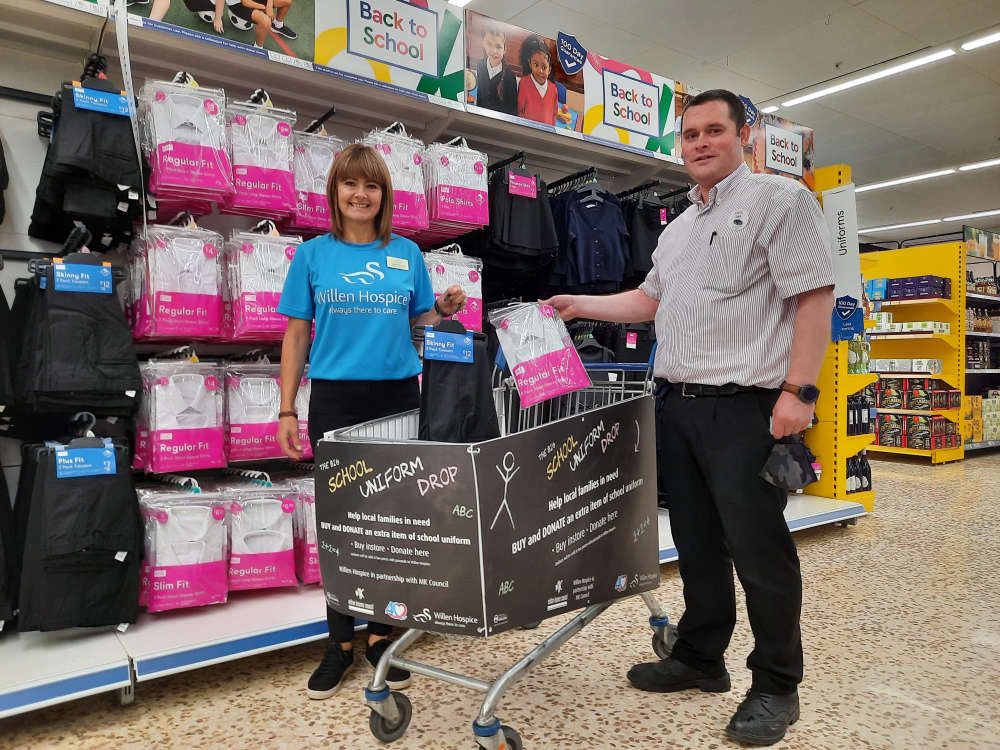 Participating retailers include John Lewis Partnership in the centre:mk, Tesco Wolverton, Aldi Stantonbury, Aldi Bradwell Common, Aldi Bletchley and Maisies Wolverton amongst others.
Elaine Wales, Community Liaison Coordinator at John Lewis Partnership said "Our partners have always been proud supporters of Willen Hospice. This initiative will also help us with our continuing community support to help end child poverty"
During the pandemic, the Hospice continued to care for its patients free of charge, whether at the Hospice or in patients' own homes. With only around a quarter of its financial support coming from the NHS, the bulk of the money needs to be raised privately. It takes £4.7million every year, or £9 a minute, to continue providing specialist, compassionate care to patients with life-limiting illnesses. Events like The Big Uniform Drop help the charity to raise much-needed funds.