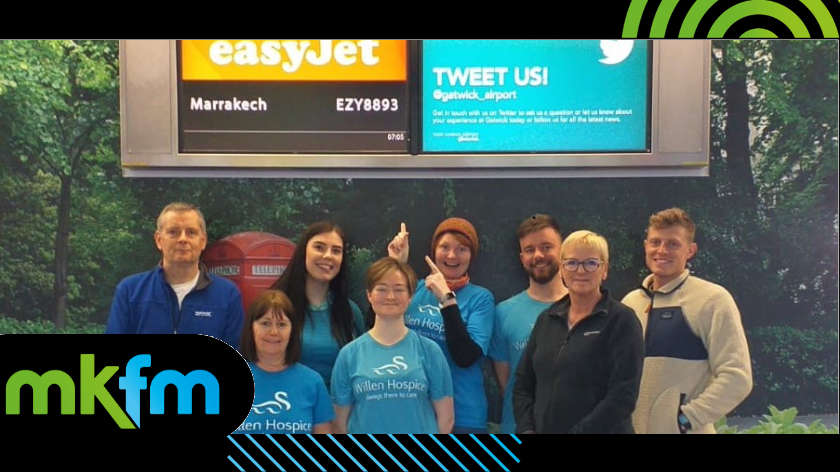 Eight local people, including Willen Hospice's very own CEO, Peta Wilkinson, left for Morocco in the early hours of this morning (23/03/23), to spend three days trekking across the Sahara Desert.
Peta will also be taking on the London Marathon for Willen Hospice on Sunday 23rd April.
Before departing, the group were invited to a Moroccan-inspired farewell dinner at the Hospice's café. They heard from fellow trekker and Willen Hospice CEO, about the impact their fundraising will have on the Hospice.
Peta Wilkinson, Willen Hospice CEO, said, "Everyone who is doing this challenge will make a huge difference to the people in our care, and their families. Willen Hospice not only provides excellent clinical and medical care, but those wrap-around services as well. We help families with their finances, support with their homes, and help with their children and families. We've even organised weddings, brass bands, birthday parties; all sorts of things just to make people's lives better, and the impact of that is tremendous."
"I've also got to run the London Marathon, because if I've got to run 26.2 miles, I can walk 20 kilometres through the sand as well! I feel that it's important for me to put myself out there for Willen Hospice and show empathy, because I know what it feels like."
Dawn Clark, Challenges Fundraiser, said "I'm so excited for our Sahara Trekkers taking on this amazing challenge for Willen Hospice. They have been training hard and have organised quizzes and curry nights to support their fundraising. We cannot wait to see the photos from the Sahara Desert and I wish them the best of luck and a huge thank you from all of us at Willen Hospice."
Willen Hospice needs to raise £5.9 million every year to provide specialist, compassionate care to local families affected by a life-limiting illness. The charity's next overseas challenge will be a Mt. Kilimanjaro Trek in Tanzania, departing January 2024. Find out more at www.willen-hospice.org.uk/challenges.