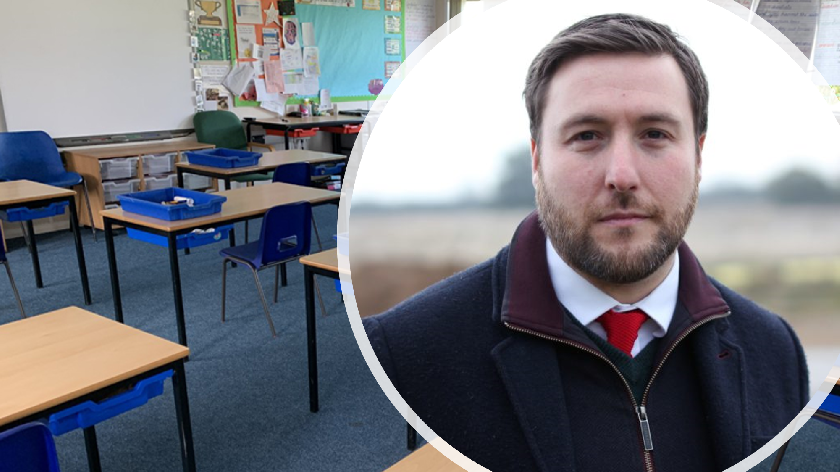 "The government will have to think" about the return of schools in early January, the Milton Keynes Council Leader Peter Marland has told MKFM in an exclusive interview.
MKFM was given the first media interview with Cllr Peter Marland since the toughest set of Tier 4 restrictions were announced for Milton Keynes on Saturday.
When asked about the return of schools in Milton Keynes after the festive break, Cllr Marland told us: "Our schools in Milton Keynes are big compared to lots of other places. In one of our schools there are nearly 500 people employed, let alone the number of 11 to 18 year-olds who attend."
"I worry about if this new strain is as virulent and transmissible as possible, it's not going to go away in the two week break between now and New Year."
"I would think that come the middle of Christmas and New Year, the government will have to think about that as well as teachers and teaching unions."
"If this strain is more virulent and it is passed on more easily, then there is the health and safety of those staff to worry about."
"I know the government have placed a lot of emphasis on making sure children's learning doesn't go awry, but if we just look at the number of staff who might be off - it will be something we have to look at."
"Whether that is mass testing when schools go back or whether that is that school's may have to stay shut for longer - I don't know."
"If I was to cast forward, some consideration will have to be given to schools and whether they will re-open or not but at the moment they are going to re-open. But I think on that it will be a matter of watch this space."
When pressed on whether the decision would be taken at a national or local level for Milton Keynes, Cllr Marland said it would not be something that could be decided locally.
He said: "The government have been really clear that young people's education is a priority. It's not easy and it's effectively a see-saw balance of risk over reward."
"It ultimately will be down to the national government what happens - they've got all the evidence put in front of them, they've got SAGE and other scientists making decisions on this."
"It's where the benefit to children and young people becomes outweighed by the general transmission and the risk in the general population of possibly a new strain of covid."
"And where that see-saw tips away from the balance of keeping children in school onto its more risk than it's worth, I'm not in a position where I'm able to say - hand on heart - I know that."
"That's not my job and the decision is not going to be made at a local level because we just don't have those facts available to us."
"I think that's a national government decision not just over what happens in Milton Keynes but in Tier 1, Tier 2, Tier 3, Tier 4."
"If this new strain is as virulent as it may look then questions are going to be asked by everybody about how safe it is to send their children back to school and the government are going to have to answer those questions. And that is something for a couple of weeks time."
Keep an eye on MKFM's website and social media channels for more stories following our exclusive interview earlier today.