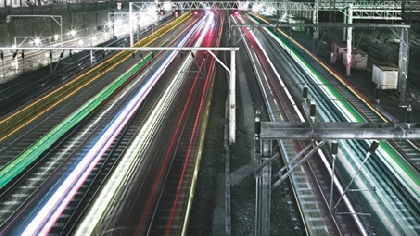 Virgin Trains and London Northwestern Railway services through Milton Keynes will not operate to or from London Euston on Easter Sunday (1 April) to allow essential rail upgrades to take place at Wembley, customers were reminded today.
Train customers planning trips to and from Euston on the West Coast main line this Easter bank holiday are urged to plan their travel on days other than the Sunday.

As part of Britain's Railway Upgrade Plan, Network Rail engineers are doing preparatory work to enable the wholesale replacement of north Wembley junction in August. The junction is old, worn out and needs replacing. Passengers will ultimately benefit from a more reliable service.

While the railway is closed to trains for Network Rail's work, HS2 Ltd will make use of the opportunity to carry on with preparatory work for Britain's new high speed railway.

Euston station's Easter Sunday shutdown will affect rail services throughout the West Coast main line including at Coventry, Birmingham, Manchester, Preston, Carlisle and Scotland.

Services on the Saturday (31 March) and the Monday (2 April) of the long weekend will also be busier as fewer trains than normal will be running.

London Overground and Caledonian Sleeper services however, will run as normal to and from Euston throughout the weekend including the Sunday.

Euston's shops and access to London Underground are set to operate as normal throughout the Easter weekend.

Martin Frobisher, managing director of Network Rail's London North Western route, said: "Our work this Easter is part of our joined-up industry plan – Britain's Railway Upgrade Plan. We are working together. HS2 Ltd is making use of this chance to prepare to build its new railway. We have agreed with our partners at Virgin Trains and London Northwestern Railway to do this work on Easter Sunday as it is typically a far less busy train travel day than usual. Doing this on Easter Sunday means as few of their customers as possible will be impacted. It's the least bad day for it."

Peter Broadley, customer experience and commercial executive director for Virgin Trains, said: "We understand upgrade works on bank holidays can be frustrating, but we're working with Network Rail to keep people on the move throughout Easter. It's likely many of our services will be busier throughout the weekend and travel will be particularly difficult on Easter Sunday. If customers choose to travel, we strongly recommend they book tickets in advance, make a seat reservation and allow more time to get to their destination."

Andrew Conroy, London Northwestern Railway's customer service director, said: "All routes are likely to be busy over Easter. Everyone's journey is different – so the message is check before you travel to avoid disruption. We're working hard with our rail industry partners to put in place alternative arrangements to ensure journeys can be made as smoothly as possible."

Jason Webb, deputy managing director of customer experience at the Rail Delivery Group, which brings together train companies and Network Rail to enable a better railway, said: "Network Rail and train companies are working together in partnership with a long term plan to change and improve for customers, communities and businesses. We're reminding customers to plan ahead this Easter weekend as we invest to improve track in Wembley, which will lead to more reliable journeys in the future."

Customers requiring mobility assistance are urged to book help in advance with their train company. All customers are urged to check on www.nationalrail.co.uk for the very latest travel information.

Further detail on these works can be found at www.nationalrail.co.uk/westcoast.