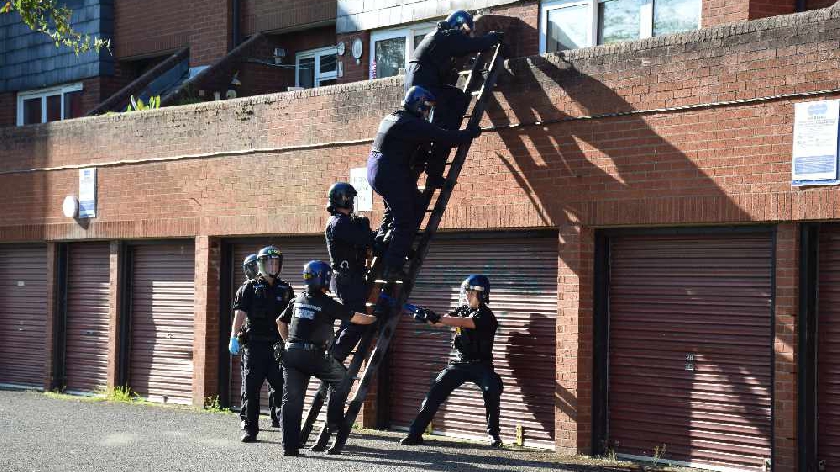 Thames Valley Police carried out a week of action last week (13 May to 19 May) to continue an ongoing commitment to tackle "county lines" drug dealing
This part of the force's Stronghold campaign which works in partnership to tackle serious and organised crime and exploitation.
County lines drug dealing is the name given to drug dealing where organised criminal groups (OCGs) use phone lines to move organised and supply drugs, usually from cities into smaller towns and rural areas.
This type of drug dealing exploits children and vulnerable adults who may have mental health or addiction problems. Generally victims are exploited by organised crime groups to supply and run drugs through violence and intimidation. It is a very harmful criminal business model which affects many in the Thames Valley.
Across the force officers have carried out a number of activities focussing on partnership working to safeguard vulnerable people, including visits to previous victims of cuckooing. This has involved close working with local authorities.
Additionally, drugs dogs have been posted at railway stations and other public locations.
Officers have been working closely with schools with education visits supported by drugs dogs. These visits were to promote the welfare of students, safeguard them, and warn children and teachers of the signs and dangers of drugs and how children can be exploited into child drugs exploitation.
Officers have also executed warrants, made arrests, seized drugs and weapons in order to investigate county lines drug dealers. Thames Valley Police has:
Safeguarded 77 vulnerable people including 15 children
Carried out 144 visits to previous victims of cuckooing
Carried out 40 educational visits to schools
Carried out 18 warrants, arrested 72 people and seized drugs including heroin, cocaine and cannabis.
£85,652 cash and 113 mobile phones seized
20 passive drugs dog operations
11 Taxi firm education visits, 24 landlord education visits and 67 hotel education visits
The week of action was part of a wider national week of action to tackle "County Lines" by the National Crime Agency.
Thames Valley Police's Detective Chief Superintendent Richard List, said: "Partnership working is vital for tackling "county lines" drug dealing.
"We have been working with local authorities, charities and schools throughout the past week in order to safeguard vulnerable people, educate adults and children on the dangers of drugs exploitation and using a variety of methods to arrest and investigate those dealing drugs and bringing misery on our communities.
"County lines is an everyday focus for Thames Valley Police but this week of action has been a great success and shows the dedication or our officers and partners to tackle this unacceptable and harmful activity.
"We would encourage the public to help us in the fight against serious and organised criminals by reporting any drug dealing of which they are aware. This will help us to build up intelligence and investigate those who see fit to deal drugs.
"Additionally we are asking communities to be aware of their neighbours, friends and young people they know for the signs them being exploited by drug dealers.
"If you think someone shows sign of mistreatment, or a child seems to be travelling long distances or is unfamiliar with the area they are in, then you can report your suspicions to Thames Valley Police on 101 or via our website."