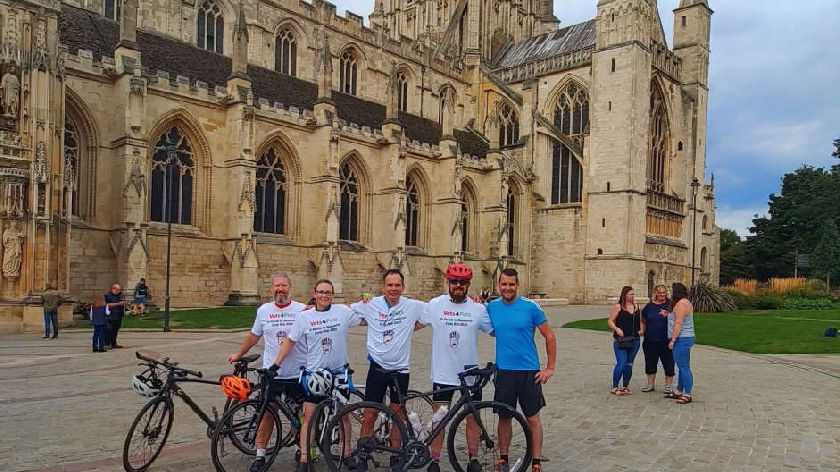 A veterinary surgeon from Milton Keynes has completed a 185-mile charity cycle ride to raise more than £1,600 for veterinary charity Vetlife.
Huw Morgan-Jones, veterinary surgeon and practice owner at Vets4Pets Bletchley and Vets4Pets Milton Keynes, raised the funds for Vetlife, a charity which provides emotional, financial and mental health support to the veterinary community.
Along with a team of friends and colleagues from Vets4Pets, Huw travelled 185 miles across the hilly countryside of South Wales and along the Pembrokeshire coast to Gloucester earlier this month.
The challenging three-day cycle ride saw him tackle an upwards ascent of 13,000 feet as part of the course.
Huw, who has worked at Vets4Pets for 14 years, has previously completed a 550-mile cycle ride from Bristol to Bordeaux. The five-day event raised £550 for PROPS, a charity which supports adults with learning disabilities.
Huw Morgan-Jones said: "It's a great feeling to have completed this challenge, whilst raising much needed funds for charity. We wanted to do something to make a difference, and we've been overwhelmed by the generosity of everyone who has helped us achieve our goal.
"Vetlife provides invaluable support for the profession 24/7, which can make a big difference to someone who may be struggling. I couldn't have done this without my fabulous teammates, and I'd like to thank them for all their hard work and dedication."
Huw completed the challenge alongside Sinead Ennis, veterinary surgeon and practice owner at Vets4Pets Charlton; Adam Charleston, veterinary surgeon and practice owner at Vets4Pets Livingston; Fernando Cordeiro, veterinary surgeon and practice owner at Vets4Pets Harrogate New Park; and Richard Page, practice owner at Companion Care Chingford.
The fundraising initiative forms part of Pets at Home's social value strategy, Our Better World Pledge, and supports its goal of becoming the most responsible pet care business in the world. This includes commitments to positively impact the life of every pet in the UK by 2030, enhance the lives of one million people by 2030 and to become net zero by 2040.
For more information about Vets4Pets Milton Keynes, visit the practice website here, and for information about Vets4Pets Bletchley, visit here.
To learn more about Vetlife or to make a donation, click here.