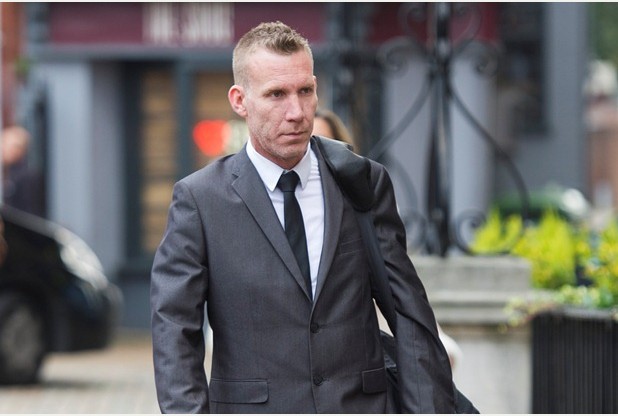 A man who was "sick and tired" of children playing on his driveway at his house in Milton Keynes has been jailed for two years after crushing a neighbour's five-year-old son to death as he parked his car.
David Cowell, 42, of Deacon Crescent, Middleton, was this morning (Friday, October 21) sentenced at Aylesbury Crown Court. He was found guilty of one count of causing death by careless/inconsiderate driving at the same court on September 29.
Cowell, it was revealed in court, had already been banned from the road twice for drink-driving and speeding. He was also disqualified from driving for a total of five years and two months.
At about 1.50pm on Sunday June 7, 2015, a black Vauxhall Insignia being driven by Cowell pulled on to a driveway he shared with the victim's family in Wood Spring Court, Monkston, where he collided with five-year-old Riley Ferguson, pupil at St Bernadette's Catholic Primary School.
Riley was taken to John Radcliffe Hospital in Oxford, but died on 11 June 2015.
Cowell was summonsed by postal requisition on 3 May 2016.
Judge Francis Sheridan said the child who witnessed the horror unfold - and the three areas of Riley's blood on the driveway - all showed where Cowell's car was at the time.

"He couldn't have been closer to the other child without actually knocking her over - that's a clue," said the judge.

"As a result, he was focused on her and that is why he wasn't looking straight ahead - had he looked straight ahead instead of trying to make a point to her, he would have seen Riley, both experts witnesses agreed," the judge told Aylesbury Crown Court.

"Young Riley Ferguson was a delightful little boy. I am just going to say that I cannot do better than pay tribute to him as his own school friends have done."
Senior investigating officer Insp Graeme Hughes, from the Serious Collision Investigation Unit, said: "This was a tragic incident in which a five-year-old child lost their life. It demonstrates that there can be fatal consequences regardless of speed if you are careless and are not paying due care and attention. Collisions, even at very low speed, can have fatal consequences.
"Nothing will ever bring little Riley back to his parents and I cannot imagine the pain they have endured. I hope this conviction and sentencing will enable them to be able to begin to move on from this tragedy."
Alan Blake, prosecuting, told the court the defendant had been disqualified from driving for 12 months in January 1998.

"That incident resulted in a car leaving the road and embedding itself in a hedge," said the prosecutor. Cowell was again banned, for drink-driving, for 36 months in June 1999 and had a speeding conviction from March 2014 on his licence.

Sean Esprit, defending, said Cowell had shown remorse, telling the judge: "At the end of the incident, there was the picture of David Cowell crouched down in the driveway in tears, as you would expect. The repercussions of this he will live with for the rest of his life."
Gavin Hernandez, district Crown prosecutor for Thames and Chiltern Crown Prosecution Service (CPS), said: "Cowell maintained that he did not see Riley and that he had conducted all reasonable observations.
"However, children regularly played and left their bikes and toys on the shared driveway. In fact, it was a source of concern and frustration to Cowell.
"There was a child plainly visible at the mouth of the drive as he approached. For these reasons, he should have been alert to the possibility of another hazard or obstruction and should have proceeded with maximum care and attention. This was not just a tragic accident, but a death caused by Cowell's driving.
"This case highlights the serious consequences of failing to be alert and prepared for unexpected or challenging driving conditions even at low speed. Holding a driving licence brings with it a high degree of responsibility that should always be at the forefront of every driver's mind.
"We hope that the conviction and today's sentence will in some way help Riley's family and friends come to terms with this tragic event. Our thoughts are very much with them all at this time."
Article by OneMK.