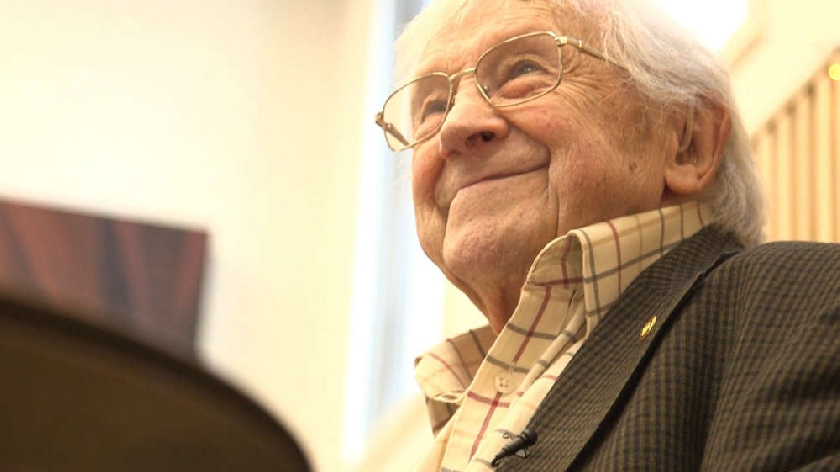 Milton Keynes-based Jazz and Dance Band drummer Roy Holliday and native filmmaker Heather Britton will be in conversation at MK Gallery.
Roy Holliday is one of few remaining nonagenarian drummers of his time.
His life as a musician has been captured by filmmaker Heather in her up close 15- minute short, Roy Holliday.
The project was Heather's first foray into documentary filmmaking in 2019, creating the study of Roy as part of Goldsmiths University Ethnographic Film and Music Masters program.
When talking about Roy and her project, Heather said: "When I was ten years old, Roy, a family friend, got me my first drum kit. That was the first time his kindness and passion for drumming had an impact on me. 20 years later I decided to make a film about his incredible history and came to find his insights into the effects ageing has on the identity of a lifelong musician were even more poignant than the array of celebrity-studded stories he told.
"It's really special to come back to my hometown and have the screening at a venue where I played my first gigs as a musician over ten years ago, and especially so for Roy, who has taught generations of Milton Keynesian drummers across so many decades.
"My hope is that the screening and Q+A will act as a celebration of Roy, for everything he has contributed to the town, for over half of his life, as musician, teacher and person. Come for the film, stay for the stories!"
On Saturday 20th November, MK Gallery is hosting an afternoon with Roy and Heather, screening her documentary about the drummer in the Sky Room cinema.
Then Roy and Heather will talk more about his remarkable career and all things drumming.
The in-conversation will be followed by Roy's choice of drumming film, the 2014 Oscar-winning Whiplash, starring Miles Teller and J K Simmons. For more information and to book tickets click here.