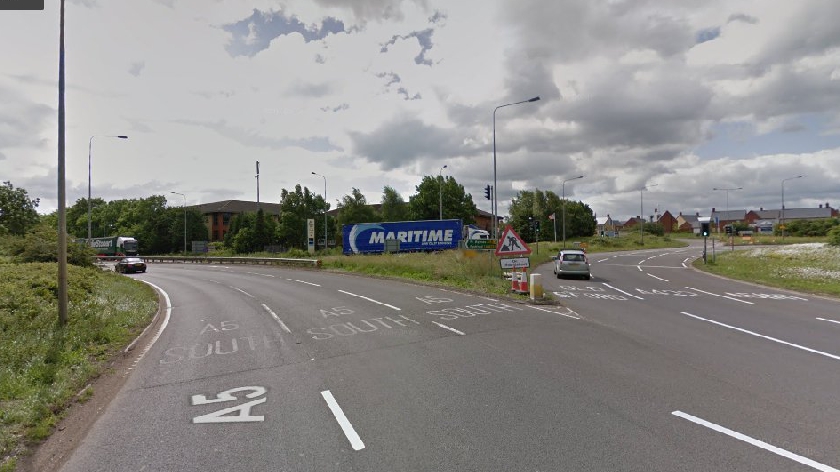 Image: Google Street View
The A5 southbound is currently closed in Milton Keynes due to a SINKHOLE which has appeared on the road.
The road is currently closed between the Old Stratford (Buddies USA) Roundabout and the A422 Monks Way junction.
A sinkhole on the roundabout, where major roadworks are currently taking place, has been reported as the cause of the congestion.
Traffic problems are being compounded by a major event happening in nearby Stony Stratford today.
First reports of the sinkhole appeared earlier this morning, with Highways England confirming it at around 11.20am this morning.
Motorists are being advised to avoid the area, with alternative routes including Old Stratford High Street.
UPDATE (14:43): It has now been reported that the A508 Southbound is now also closed at the Old Stratford Roundabout.
UPDATE (19:21): The road remains closed. The A5D at Old Stratford/Stony Stratford is also still closed.
Update: emergency closure at A5 D at Old Stratford/Stony Stratford - due to issues caused by recent heavy rainfall there is a diversion in place use H5 Portway and V4 instead @HeartMKNews @mkfm @BBC3CR @Secklow1055fm

— MK Council (@mkcouncil) June 3, 2018
What is a sinkhole?
A sinkhole is a depression or hole in the ground caused by some form of collapse of the surface layer.
Most are caused by karst processes - for example, the chemical dissolution of carbonate rocks or suffosion processes.
Sinkholes vary in size from 1 to 600 m (3.3 to 2,000 ft) both in diameter and depth, and vary in form from soil-lined bowls to bedrock-edged chasms.
Sinkholes may form gradually or suddenly, and are found worldwide.